Halls of Residence - Pólo III
Novais Barbosa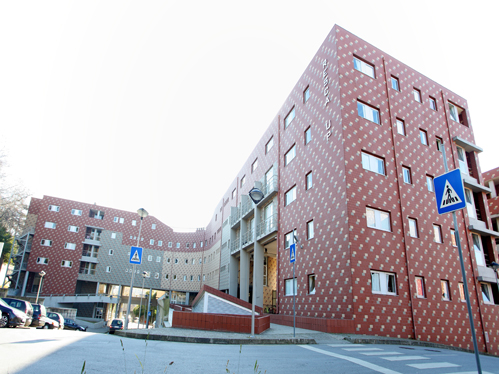 The José Novais Barbosa Hall of Residence, located on Via Panorâmica, has a unique architecture that blends with the building of the Faculty of Arts. The wide outdoor space surrounding the building and the views over the Douro River are a delight to nature lovers.

The José Novais Barbosa Residence has 248 beds for international mobility B.A. and M.A. students. The Residence comprises 22 apartments, each with 6 to 14 single bedrooms and a shared bathroom. Each apartment has a common eating area with a microwave and a fridge, but does not have a fully-equipped kitchen.
The Novais Barbosa Hall of Residence is equipped with a surveillance service that operates when SASUP's staff is off-duty.
Features
Amenities
Laundry
Internet connection
Cleaning of communal areas
Room cleaning
Accessible to the disabled
Bicycle storage area
Sport TV channel
TV Cine channel
contacts
Rua da Pena, s/n
4150-609 Porto
Serv. Alojamento: + 351 222 074 260
Residência: + 351 222 071 415
Residência móvel:+ 351 961 526 861
Email: Alojamento@sas.up.pt