Notícias
CINEMUNDUS | Ciclo de Cinema
24 OUT * 31 OUT* 07 NOV | 21:00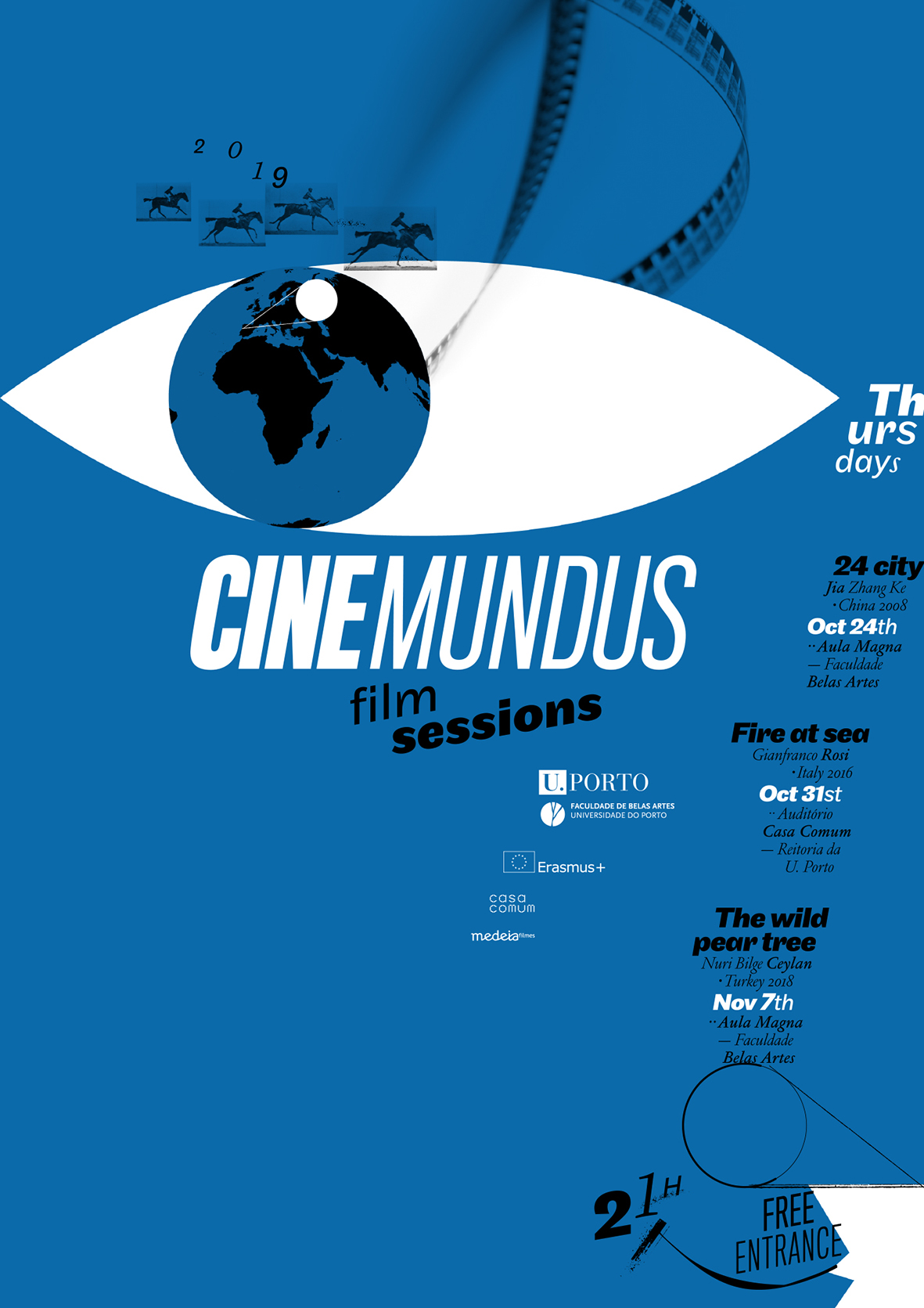 CINEMUNDUS 2019FBAUP | Auditório Casa Comum (Reitoria da U.Porto)
A journey of a thousand miles begins with a single step.
—Lao-Tzu
Every year thousands of students from around the world travel to study at schools in other countries looking for new experiences — aiming to improve their skills and knowledge, challenging themselves as they face different cultures and education systems, dealing everyday with diverse ways of living. Presenting their own identity, friendships and fond attachments begin and grow, and these youngsters show us how diversity enhances the human spirit as interrelationship transforms the world into something bigger and better. These students carry a restless gaze, insatiably peering at new experiences and creating a multitude of stories to share and make sense - actually, this very same gaze comes near to a definition of motion pictures. "Seeing is in itself a movement", wrote a French artist. Cinema is an artistic and cultural phenomenon that engages as an agent of global transformation, and interestingly, it's also a way for us to relate as individuals with different perspectives and focus — it allows us to know notable worlds, moving briefly to other places, hence being exposed to other realities, sometimes bursting, other times everlasting places: exquisite locations of imagination, memory, identity and emotion. In a sense each movie at these film sessions share these topics, offering a specific vision, never imposing and rather inviting the viewer to leap into it and choose his stand.


ENTRADA LIVRE

A quarta edição do ciclo de cinema CineMundus, dedicada a estudantes de mobilidade que estudam atualmente no Porto mas aberto a toda a comunidade académica e público em geral.
É um evento promovido pelo Unidade de Cultura da U.Porto, Serviço de Relações Internacionais da U.Porto (Erasmus+), em parceria com a Faculdade de Belas Artes que pretende celebrar a diversidade.
Serão exibidos durante este ciclo três filmes, de três realizadores de diferentes regiões e nacionalidades.
Para ver na Aula Magna da Faculdade de Belas Artes (FBAUP) e na Casa Comum da Reitoria da U.Porto, nos dias 24 OUT, 13 OUT e 07 NOV , às 21:00

PROGRAMA:


24 OUT | 21:00 | Aula Magna da FBAUP
          24 CITY de Jia Zhang Ke (China| 2018 | 112')


31 OUT |21:00 | Casa Comum (Reitoria da U.Porto)

          Fire at Sea de Gianfranco Rosi (Itália| 2016 |114')


07 NOV |21:00 | Aula Magna da FBAUP

          The Wild Pearl Tree de Nuri Bilge Ceylan (Turquia| 2018 |188')

________________________________

FREE ADMISSION

This is the fourth edition of CineMundus film sessions, dedicated to mobility students that are currently studying at Porto. This event is promoted by the Rectory of the University of Porto, the Erasmus+ International Office and the Fine Arts Faculty, featuring three films by three directors from diverse regions and nationalities.
It's screened at the Aula Magna of the Faculty of Fine Arts (FBAUP),and Casa Comum Auditorium (U.Porto Rectory), on three Thursdays nights - 21H - in October and November.

PROGRAMM:

24 OUT | 21:00 | Aula Magna da FBAUP
          24 CITY , Jia Zhang Ke (China| 2018 | 112')


31 OUT |21:00 | Casa Comum (Reitoria da U.Porto)

          Fire at Sea , Gianfranco Rosi (Italy | 2016|114')


07 NOV |21:00 | Aula Magna da FBAUP

          The Wild Pearl Tree, Nuri Bilge Ceylan (Turkey | 2018 |188')