U.Porto Memory
U.Porto - Buildings with history
Palacete Braguinha

António Ribeiro Fernandes Forbes (1791-1862), from Fafe and an emigrant in Brazil, returned to Portugal in 1857 and chose Rua do Heroísmo to live in. In 1861, he purchased a property in Rua de São Lázaro, now called Avenida de Rodrigues de Freitas, where he intended to build his home. Life events, however, did not let him carry his project through, which was only achieved by his widow, D. Maria do Carmo Calazans Rodrigues (1816-1901), between 1863 and 1873.
In 1875, the grand palace of Widow Forbes, a refined work of stone and exotic woods, boasting a magnificent garden, was sold to another man from Brazil (M. Graça, 2002) for 70 contos. The new owner, José Teixeira da Silva Braga (1811-1890), also from Fafe and an emigrant in Brazil, had returned to Portugal in 1860 and lived here until his death.
His heir, José Braga Júnior, the second of the "braguinhas" from Porto to hold office as Vice-Consul of Brazil in Porto ("Os Brasileiros de Torna Viagem", 2000), promoted concerts in the house in Rua de São Lázaro and the construction of a new garden designed by the Belgian landscape architect, Florent Claes. He introduced exotic species, mainly from South-America, and created a museum of natural history (I. de ARAÚJO, 1979).
In 1917, after the death of José Braga Júnior, the palace was occupied by the Porto Trade Institute and eleven years later, when this institute was closed down, by the Porto Fine Arts School.

In 1934, the architect and teacher Manuel Marques was asked to devise a plan to remodel the building. In that same year, master José Marques da Silva designed a project to restructure the building.
This was a chequered project and its implementation was only possible in the late 40s, after the steps taken by the Head of ESBAP, Joaquim Lopes, and its School Board.
27 April 1950 marks the inauguration of the first of four pavilions for Architecture, Drawing and Library, according to the programme prepared by the Department of Plans of the Directorate of National Buildings, supervised by engineer and architect Manuel Lima Fernandes de Sá.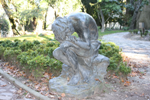 In 1951, the Pavilion of Painting/Sculpture was opened. It was designed by the architect Carlos Chambers Ramos and Manuel Fernandes de Sá supervised the completion of the first plans for the Architecture and Exhibition Pavilions, inaugurated in 1954.
The architect Octávio Lixa Filgueiras was responsible for the project to restore and expand the palace, and performed by architect Eduardo Brito.
Since 2006, the Faculty of Fine Arts of the University of Porto boasts another five-storey building, designed by the architect Alcino Soutinho and built on land adjoining the Faculty.