U.Porto Memory
University of Porto Famous Alumni
António Plácido da Costa
António Plácido da Costa
1848-1916
Physician, ophthalmologist, university teacher and inventor


António Plácido da Costa, son of a weaver named Rafael da Costa, was born in Covilhã on 1 September 1848.

In 1863, he moved to Porto with his father, who had been hired by the wool factory of Lordelo do Ouro. Here, he attended Father Six College, which referred him to an ecclesiastical career. He sat the exams at the National High School and was admitted to the Polytechnic Academy of Porto, where he remained until July 1868. At this academy, he sat the exams in Physics, Chemistry, Zoology and Botany, and received an award in a Botany subject, with a work in the field of Plant Histology, in 1867.
Having completed the preparatory years successfully, António da Costa entered the Seminary of Cambraia, where he acquired a humanist education, argumentative skills and sound reasoning. He remained in this institution until 1870.
In 1874, he enrolled in the Medical-Surgical School of Porto, where he studied with Ricardo Jorge whom he worked with years later in the study of the bubonic plague.

In the following years, he presented at the student association "Aliança Académica" a work entitled "O microscópio e as suas revelações" [The microscope and its revelations] (1875), and created a practical and private course of Histology (1878), an area in which he was a pioneer in Porto. He completed the Medicine course in 1879, with the presentation of the dissertation "Apontamentos de micrologia médica", [Notes on medical micrology], and was approved with honours.
Between 1879 and 1791, he worked in Lisbon as an optician in the medical office of Dr. Van der Laan, and wrote 10 articles for the journal "Periódico de Oftalmologia Prática" during that period. Seven of these studies focus on the presentation of four of his own inventions: the exploring astigmatoscope, the most famous of them all, today known as Keratoscope, or Placido's disk, the orthopaedic binoscope, an instrument to help the subjective correction of strabismus [squinting], the hygrothermal capsule, to apply humid heat in case of eye diseases, and the galvanotherapy battery.
On his return to Porto, he exhibited his inventions at the Medical-Surgical School, and presented his last published work, entitled "Fisiologia do punctum caecum da retina humana" [Physiology of the punctum caecum of the human retina], a thesis he used to compete for the position of substitute teacher of the medical department of that school.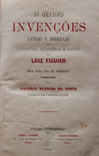 During his career as a teacher and researcher, he conducted a Histology course (1884-1894), taught the chairs of Histology (1884-1902, 1910-1916) and Physiology (first as permanent teacher, and then as ordinary professor, from 1911). He ran the Physiology Laboratory (1884-1906), built the first telescope ever designed and made in Portugal (1883-1885) and the ophthalmic therapeutic electromagnet (1884), among many other instruments, and translated the work "As grandes invenções antigas e modernas nas sciencias, industria e artes: obra para uso da mocidade" [The great old and modern inventions in sciences, industry and arts: work to be used by youth], by the French writer and scientist Louis Figuier (1819-1894).
He married Belmira Amsinck Oliveira Allen who bore him children. In his leisure time, he enjoyed flowers and playing the violin.
Plácido da Costa died in Porto in 1916.

The objects and instruments of this distinguished researcher are showcased in the Ricardo Jorge Room of the Museum of the History of Medicine Maximiano Lemos.
(Universidade Digital / Gestão de Informação, 2011)