U.Porto Memory
Rectory Building of the U.Porto - North side
Praça de Gomes Teixeira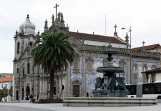 The current Praça de Gomes Teixeira [Gomes Teixeira Square] had different names over time. It was called Largo do Carmo as it stood close to the Nossa Senhora do Carmo Convent (Barefoot Carmelites), founded in 1619. Later, it was known as Campo dos Meninos Órfãos [Square of the Orphan Children], because it was located in front of the college with the same name, in honour of Nossa Senhora da Graça, founded in 1651 by Father Baltazar Guedes (1620-1693). It then became known as Praça do Pão [Bread Square] or Praça da Feira do Pão [Bread market Square] because bread, flour and cereals used to be sold there since the 17th century.

In 1835, the Porto City Council renamed the square Praça dos Voluntários da Rainha [The Queen's Volunteers Square] because that was where the Queen's liberal elements of the regiment practiced when they occupied the Convent of the Discalced Carmelites (nowadays the headquarters of the National Guard).

In the early 10th century, after the establishment of the University of Porto, the square was named Praça da Universidade [University Square] and later Praça de Gomes Teixeira [Teixeira Gomes Square], in honour of the distinguished mathematician, educator, writer and first Rector of the University of Porto. It should be noted, however, that the square is commonly known as Praça dos Leões, due to its fountain.