U.Porto Memory
University of Porto Famous Alumni
Bento Carqueja
Bento Carqueja
1860-1935
Professor, journalist and charitable man
Bento Carqueja was born on 6th November 1860, in Rua Direita, Oliveira de Azeméis. He was the elder of the 4 children born of Bento de Sousa Carqueja, a trader and amateur actor, and Maria Amélia Soares de Pinho, a descendant of an aristocratic family, Soares de Pinho.
The surname Carqueja derives from from his great-grandfather's nickname, Manuel de Sousa Bento, from Valbom, who worked as an apprentice in a sole shop in Rua das Congostas, in Porto (which disappeared when Rua de Mouzinho da Silveira was built). His colleagues called him Carqueja to distinguish him from one of the salesmen, who was also called Manuel.

At the age of 8, "Bentinho" (as he was called by his closest relatives) started working in his father's business; by then, he already showed an extraordinary vivacity and intelligence.

His primary studies, in Oliveira de Azeméis, were followed in Porto, where he moved at the age of 10 with the support of his uncle and father-in-law, Manuel de Sousa Carqueja. He then lived at the house of his uncle Francisco and his aunt Paulina, in Rua da Ferraria (presently, Rua do Comércio do Porto, which merged Rua da Rosa and Rua Ferraria de Baixo or Ferraria Nova), and attended school at Colégio Nossa Senhora da Glória. He met Luís de Magalhães at this school and revealed his capacities as a writer and as a speaker. Therefore, no one found it odd when he published his first speech, at the age of 15. Likewise, no one found it odd when his first speech was published at the age of 16.
In 1878, he registered in the Higher Education Course in Agriculture at the Porto Polytechnic Academy, which he finished 4 years later, with the exceptional mark of 5 accessits.
He then taught at the school where he had studied, and transferred to the Normal School of Porto in 1884. There he taught the disciplines of Agriculture and Physical and Natural Sciences, and created the "Botanical Garden" and the laboratories of Vegetal Physiology and Agricultural Chemistry.
In the meantime, on 8th September 1888 he married his cousin Elisa Maria Kunhardt de Sousa, of a French origin. A child was born of this marriage, Maria Paulina, on the 10th anniversary.

In 1898 he was appointed Professor of the Porto Polytechnic Academy, where he remained until 1915. That same here he was invited by the Technical Faculty, presently the Faculty of Engineering of the University of Porto, to teach the disciplines of Political Economy, Accountancy and Public Works Law. He was later appointed Full Professor of the Faculty of Sciences of the University of Porto. His retirement arrived after a teaching career of 46 years.
Charitable as he was, he gave his salary as a Professor to the Institute of Scientific Research in Socio-economical Sciences.

In parallel with his teaching activities, he dedicated himself to journalism in the Porto newspaper O Comércio do Porto (1854-2005), founded by Manuel de Sousa Carqueja and by Dr. Henrique Carlos de Miranda. He started working in the newsroom in 1880. After the modest roles he played in the beginning, he became the co-owner of the newspaper after his uncle's death, in 1908, and developed a new and innovative social and editorial policy.

In the newspaper, where he refused to be called by his academic title and treated all workers with equal respect, he tried to build a newsroom reputation of independence and credibility, introducing deep changes. For the first time, he used foreign correspondents, hired national renowned contributors, created a museum to promote arts, stimulated homage to the greatest late personalities of the national culture, and created libraries and founded "O Lavrador" (1903), a free monthly newsletter dedicated to farmers, sponsored by José Cláudio Mesquita (who was also involved in the foundation of itinerant agricultural schools).
Using the newspaper, Bento Carqueja helped found 5 kindergartens in Vila Nova de Gaia and in Porto, between 1894 and 1921. In order to obtain funding, he used innovative methods, such as a biplane; he also organised children parties in several Portuguese cities, according to a plan conceived by himself.
As he was deeply involved in social issues, from 1889 onwards he encouraged the building of working class accommodation (Monte Pedral, in 1889; Lordelo do Ouro, in 1901; Xavier da Mota and Bonfim). In 1914, he organised the economical meals, aimed at the least favoured; more than 70,000 meals were served.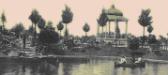 In his hometown he founded the pulp mill Fábrica de Papel do Caima (1905), helped install the water supply (1906), built a residential establishment, installed the public lighting network, the Vale do Vouga railway, the Firemen Association and the Santa Casa da Misericórdia. He also created the School of Graphic Arts and Works (1927) and rebuilt the church, the La Salette Park and the Annaes Municipaes.

He was an educated, solidarian man, strongly attached to his family. He believed in the Monarchy and in God. Heavy reader and compulsive writer, he shared many of the hours he devoted to writing with his Persian cat, Patusco.
He enjoyed living. In the Portuguese cuisine, he particularly enjoyed the "Cozido à Portuguesa" and conventual sweets. He used to listen to classical music and loved the arts, in particular the paintings of Veloso Salgado. He collected commemorating medals and old coins, and played the billiards.

He was friends with D. António Barroso, Professor Ferreira da Silvaand the Comendador Francisco Pinheiro de Meireles, who regularly visited his home.

He had a house in Ferreiros and, usually, spent August in Foz do Douro, by the sea, bathing. In the Summer of 1935 his doctor advised him to end this tradition, as the sea air was dangerous to his weak heart. Bento Carqueja refused to listen to him. He died peacefully in Rua do Molhe, in Foz do Douro, on 2nd August 1935. His body was taken to Oliveira de Azeméis, where he was buried.
(Universidade Digital / Gestão de Informação, 2008)