U.Porto Memory
University of Porto Famous Alumni
Arnaldo Roseira
Arnaldo Roseira
1912-1984
Botanist, university teacher and director of FCUP


Arnaldo Deodato da Fonseca Roseira was the son of Arnaldo Francisco Lopes Roseira and Maria Amélia da Fonseca e Silva. He was born in Nossa Senhora das Neves, São Tomé e Príncipe, on 29 April 1912.
In 1930 he enrolled in the Faculty of Sciences of the University of Porto, where he taught between 28 March 1936 and 29 April 1982 and spent his entire academic career in the area of Botany.

He obtained his doctoral degree in 1944 with a thesis entitled "A flora de Trás-os-Montes e Alto Douro". In 1949 he applied for the post of extraordinary professor of the 2nd group – Botany -, of the 3rd Department – Historical and Natural Sciences – of FCUP, with Alfredo Andrade da Silva and Manuel Cabral Resende Pinto. Arnaldo Roseira, who at the time was 1st Assistant of Botany and a fellow of the Institute for Advanced Culture, presented the dissertation "A Secção STOECHAS Gingins do Género LAVANDULA Linn", and passed the exam with honours together with Manuel Pinto; the majority passed him with relative merit. He was appointed by Ordinance of 3 March 1949, published in the Government Gazette, Series II, no. 65, of 2 March. He took up office on 14 April 1952 and on 29 March he was reappointed, this time for good.
In the academic year 1950-1951 he went to Montpellier on an internship Sponsored by the Institute for Advanced Culture. In 1952 and 1953 he was elected representative of extraordinary teacher to the Senate of the University of Porto, for the years 1952-1953 and 1953-1954.
From 3 September 1954 he served on a scientific mission in S. Tomé, and resumed his duties at FCUP on 30 December of that year. Between 13 June and 3 July 1955 he again left the country on an official mission.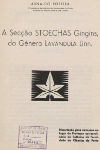 In July 1957, he competed with Manuel Cabral de Resende Pinto for the position of full professor of Botany with the lesson on the theme "Estudos Botânicos nas Ilhas de S. Tomé e Príncipe. Problemas fundamentais", at the Grand Hall of the Faculty of Sciences. The two candidates passed with absolute merit, and Roseira was also approved with relative merit. In that same year, Roseira was appointed full, professor on 10 August and took up office on 22 of August.
His academic career continued with brilliant results. Between 30 June 1958 and 8 June 1959, he assumed the interim management of the Museum and Laboratory of Anthropology, linked to FCUP. He became its director in 1969 and was reappointed in 1970. In the academic year 1958-1959, he was allowed to travel to S. Tomé to join the botany exploration campaign.
In 1960 he was sworn in as the director of the Institute of Botany "Dr. Gonçalo Sampaio", linked to the same faculty, and was reappointed in 1967 and 1970. He also managed the Botanical Garden between 1960 and 1974, and between 9 January and 29 April, and FCUP between 27 April 1972 and 29 April 1974. He was also the President of the Association of Natural Philosophy of FCUP.
He was forced to retired in 1975 and was readmitted in 1976. Later, in 1982, he was appointed permanent full professor of the 2nd group – Botany, of the 3rd Department – Historical and Natural Sciences of FCUP (Government Gazette no. D44, Series II, of 22 February 1982).
He reached the age limit for work on 29 April 1982.
He was married to Maria Irene de Mariz Teixeira and the couple had 10 children: Arnaldo Eduardo, Maria Irene, António José, Maria do Céu, Augusto Duarte, Nuno Manuel, João Luís, Armando Jorge, Maria da Graça and Paulo Maria de Mariz Roseira.
Morreu no Porto a 8 de Março de 1984.
(Universidade Digital / Gestão de Informação, 2012)