U.Porto Memory
Historical Buildings of the University of Porto - Rectory Building
José Maria Veloso Salgado (1864-1945)
José Maria Veloso Salgado was born in Santa Maria de Melon, in the Spanish province of Orense, on 2 April 1864. He was the son of farmers José Perez and Dolores Veloso Rodrigues Salgado.
At the age of 10, he came to Lisbon to live with his maternal uncle, Miguel Veloso Rodrigues, who was a master of Litografia Lemos, located in the former Rua de S. Francisco (now Rua Ivens), where José Maria began working as a lithograph apprentice.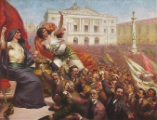 Between 1878 and 1880, he attended as an amateur pupil the class entitled "Elementary Drawing" [night classes for workers of the Academy of Fine Arts of Lisbon], and passed with distinction in the academic year 1878-79. In the following year, and still as an amateur, he attended the day drawing course.
In 1881, he enrolled in the normal night course, and received a distinction at the end of the year in the category of drawing at the triennial school exhibition (1882), and won a cash prize to the amount of 20,000 réis.
He then changed to the day course and was taught by his uncle Simões de Almeida, in Drawing, and José Ferreira Chaves, in Painting, completing both subjects with full marks. However, his work at the lithography workshop was an obstacle to his studies and in the academic year 1883-1884 he only received a pass mark.
In 1884, he submitted two projects at the 13th exhibition of the Promoting Society of Fine Arts, receiving an honourable mention, and in 1887 he participated in the 14th exhibition of the same society. In the same year, he completed the course with an average final mark of 17.
In 1888, Veloso Salgado left for Paris on a state grant and rented a workshop at Rue Denfert-Rochereau, which he initially shared with Artur Melo. In Paris, he became friends with the sculptor António Teixeira Lopes, who had a studio in the same building.
On 8 October of that same year, he was admitted in 5th place out of 300 competitors to the workshop of Cabanel and Benjamin Constant, at the École des Beaux-Arts. He also received lessons from Jules-Elie Delaunay, Jean-Paul Laurens and Fernand Cormon. It was around this time that he became acquainted with the painter Jules Breton, his daughter and pupil, Virgínia Demont Breton, and her husband, the landscape architect Adrien Demont, who became his close friend.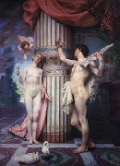 In the early 1890s, he debuted at the Salon de Paris and won the painting competition of the Lisbon City Council (1890); he sent his painting to the 1st Exhibition of Grémio Artístico, in Lisbon, returned to the Salon, and won a 3rd medal with the painting "Amor e Psyché", and visited Italy, where he portrayed outdoor scenes, studied the early painters and reproduced the work of Renaissance painters (1891).
Between 1892 and 1894, he once again exhibited his work at the Salon and Grémio Artístico, participated in the Art Exhibition of Munich and in the Universal Exhibition of Antwerp, continued to receive many prizes and was elected Merit Scholar of the Lisbon Academy of Fine Arts.
He returned to Lisbon in 1895 and in December of the same year he was appointed Acting Professor of Historical Painting at the School of Fine Arts; two years later, he assumed functions as tenured teacher, defeating Columbano, among others.
From this period on, he continued to participate regularly in major national and international art exhibitions, painted pictures for various institutions and personalities, and received many distinctions and awards (officer of the Order of St. James, in 1896, knight of the French Legion of Honour, in 1902, member of the Academy of Sciences, in 1907).
He married Vitorina de Silva Mello in 1896, the goddaughter and protégée of Ferreira Chaves, with whom he had two children, José Miguel (1896) and Maria Adelina (1899).
With the reform of art education, in 1901, he shared the chair of Historical Painting with Columbano, and between 21 November and 7 December he could not teach for health reasons.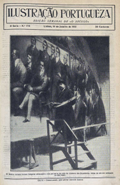 After the death of Ferreira Chaves's widow, in 1903, he inherited most of his possessions, namely an income building in Rua da Quintinha, in Lisbon.
In 1926, he was honoured by the Lisbon School of Fine Arts with the unveiling of a stone in the painting room where he taught. In 1934, having reached the retirement age for teaching, he was honoured by EBAP, although he continued to teach.
During his retirement process (between 1937 and 1941), the National Society of Fine Arts held a retrospective exhibition of his work and that of Simões de Almeida (1939). He stopped painting in 1940.
He was once again honoured in 1945, this time in a group exhibition held in Porto, with José de Brito, but he did not participate because he was ill.
José Maria Veloso Salgado died on 12 December 1945. On the first anniversary of his death, the National Society of Fine Arts celebrated the occasion, presided over by Diogo de Macedo. The Lisbon City Council unveiled a stone at the house where he had lived and died.