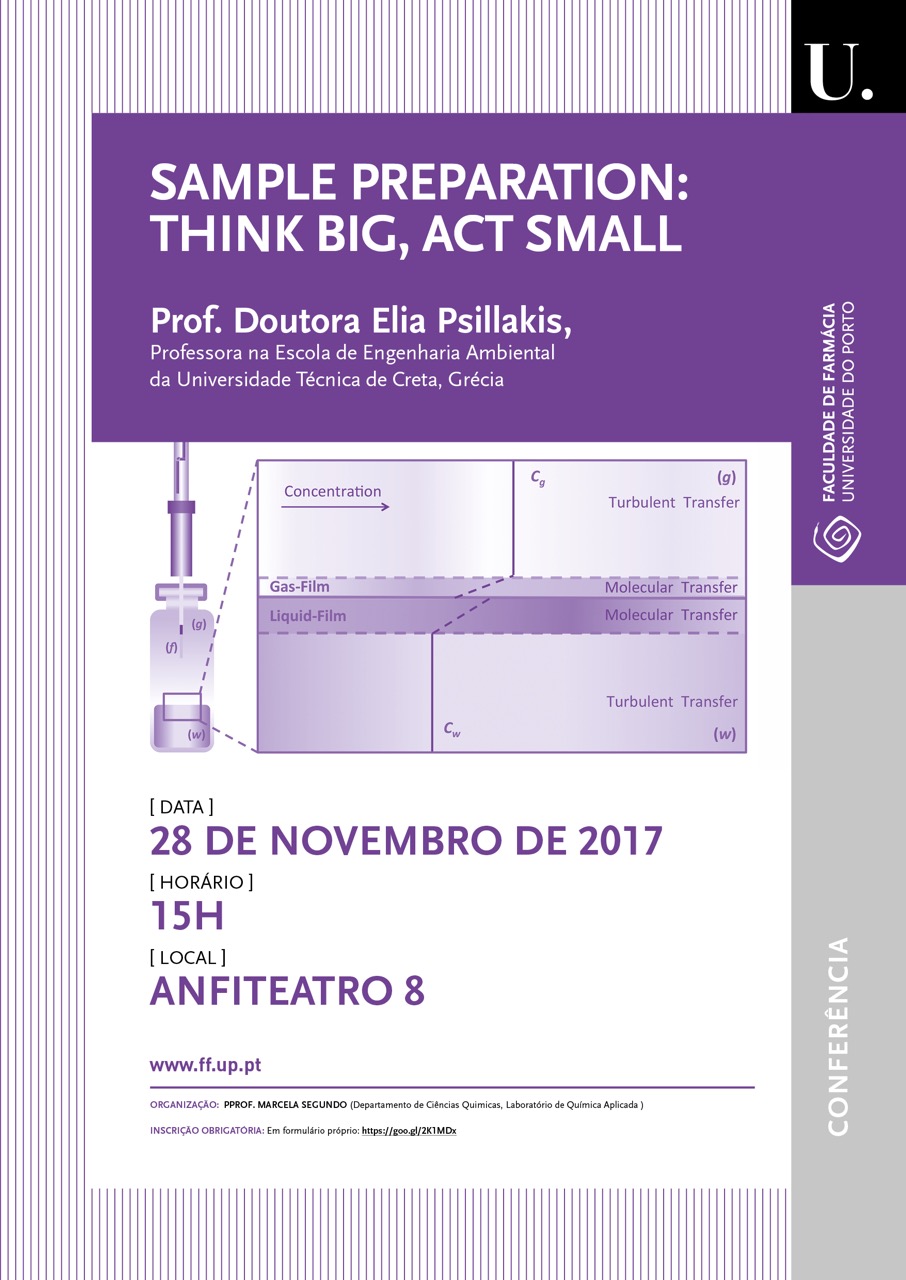 Tipo de Formação: Conferência
Título: 

Sample Preparation: Think Big, Act Small

Data:
Dia 28 de novembro às 15.00 horas no Anfiteatro 8 do Complexo FFUP/ICBASOrador: Prof. Doutora Elia Psillakis 

(Professora na Escola de Engenharia Ambiental da Universidade Técnica de Creta, Grécia).
Elia Psillakis received her degree in Chemistry from Universite Montpellier II Sciences et Techniques du Languedoc, France in 1994 and her PhD from the University of Bristol, U.K in 1997. In 2007, she was selected for a Fulbright Research Fellowship and used it at California Institute of Technology, USA. Her research activities focus on (i) understanding, developing and applying novel sample preparation methods to the detection of trace amounts of emerging and persistent organic pollutants in environmental samples and (ii) the environmental monitoring and fate of organic contaminants in natural or engineered environments.
To date her investigations have resulted in one patent, four book chapters and 75 publications in ISI Journals with more than 5500 citations, an h-index 39 (Google Scholar) and three "Top cited article awards". From 2014 to 2016 she acted as the Deputy Rector of Academic Affairs and Research at the Technical University of Crete.
Programa:
Sample preparation techniques can be viewed as bodies of technology built around discoveries of phenomena like diffusion, sorption or evaporation, to name a few. Many of these phenomena are not yet fully understood and a number of challenges will arise when attempting to interpret the effect of different experimental parameters on inter-phase analyte transfer taking place during sample preparation.
This seminar aims bridging two unexpectedly far disciplines such as sample preparation and environmental engineering. Several of our investigations, dealing with the development of new sample preparation methods or studying the fate of both emerging and persistent organic pollutants in different environmental samples will be presented. Through these case studies, the overarching issues and challenges behind even the simplest analytical steps performed daily in the laboratory will be presented. Ultimately, the unique feature of sample preparation methods to simulate, in a small-scale, processes found in natural and engineered systems will be discussed so as to demonstrate that sample preparation methods can be effectively used as a platform to tackle problems in other disciplines.

Formulário de InscriçãoOrganização:
Prof.ª Doutora Marcela Segundo
(Departamento de Ciências Químicas, Laboratório de Química Aplicada, FFUP)