News
Simpósio | Cognition, Emotion & Behavior: The brain at work
4 de abril | Auditório 2A
A Associação de Estudantes da Faculdade de Psicologia e de Ciências da Educação da Universidade do Porto (FPCEUP) organiza em 2018 mais uma edição do
Simpósio "Cognition, Emotion & Behavior: The Brain at Work"
, que este ano decorre a 4 de abril.
Na sua 4ª edição, o evento tem como tema principal o envelhecimento e as doenças neurodegenerativas, contando o painel de oradores com vários investigadores de renome nesta área:
Alpha-Theta Neurofeedback protocol to improve working memory and executive functioning in the healthy aging & The aging social brain: neural and behavioral age-related changes in social cognition and decision-making & Hypothalamic-pituitary-adrenal axis, Loneliness, Cognitive reserve and Cognitive Function in Healthy Elderly, Laboratório de Neuropsicofisiologia (Universidade do Porto)
PT100 - Oporto Centenarian Study, Dr. Óscar Ribeiro
PANA Project, Dr. Orfeu Flores
Brain Functional Networks in Healthy aging and Parkinson's Disease, Dra. Joana Cabral
O simpósio é um dos eventos que marca a celebração dos 30 anos da AEFPCEUP, que colabora também com a celebração dos 40 anos de Psicologia na Universidade do Porto que a FPCEUP está este ano a celebrar.
Para consultar informações mais detalhadas sobre o evento consultar
aqui
ou o
Facebook
.
As inscrições são feitas online em
http://bit.ly/2HQCoYV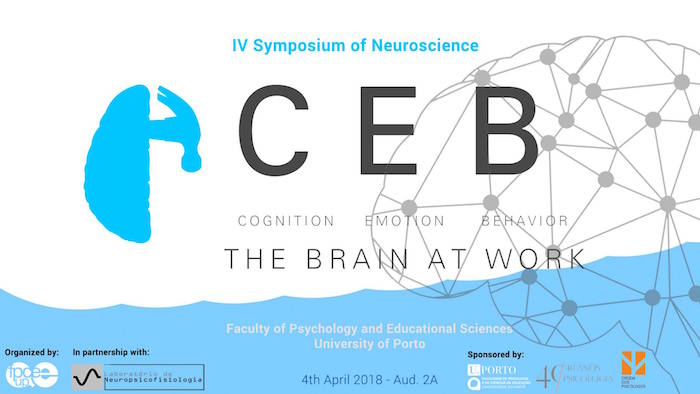 Mais informações
Associação de Estudantes (AEFPCEUP)
Faculdade de Psicologia e de Ciências da Educação da Universidade do Porto
Rua Alfredo Allen, 4200-135 Porto
T. | +351 22 012 08 42 / 91 726 16 03
E. | aefpceup@fpce.up.pt
W. |
www.aefpceup.pt
F. |
facebook.com/AEFPCEUP