U.Porto Museums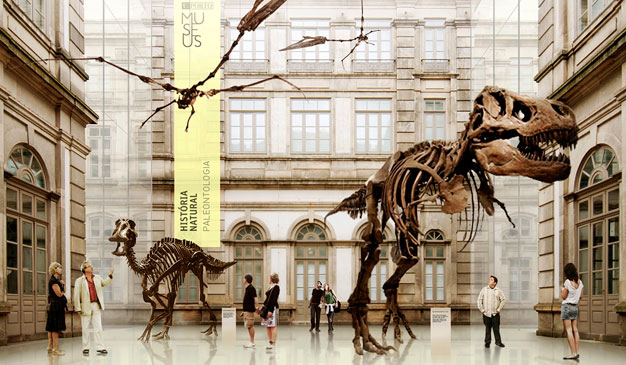 A visit to U.Porto would not be complete without a tour of our museums and their valuable collections. The organisation, enhancement and dissemination of these collections are a priority for the University of Porto.
Located at various points on the campus, these museums initially have an educational purpose and are links between the learning and the research community. They are an important cultural asset for the institution. We also want them to link the University to the City and the Region, and to promote the University in the wider world.
Each year we open up our "treasures" so that thousands of people can discover medical, scientific or pharmaceutical history through their centuries-old instruments. You can also breathe the fresh air in our Botanical Garden, travel into space in the Planetarium and enjoy so much more in other cultural and scientific sites located in the University campus.
Natural History and Science Museum
Formally established in the end of 2015 as the outcome of the merger between the Museum of Natural History of the U.Porto and the Science Museum of the U.Porto – Faculty of Sciences (both originally founded in 1996), the Natural History and Science Museum of the University of Porto (MHNC-UP) has as its main mission the promotion of the dissemination of knowledge about evolution, diversity and the confluence between the natural and the cultural worlds. Accordingly, the MHNC-UP is committed to preserve, promote, study and raise awareness about a broad heritage linked to the natural, exact and human sciences, built up through education and research related activities carried out by U.Porto throughout more than two centuries.
The MHNC-UP is organized according to a bipolar structure, encompassing a core pole located in the facilities of the Historic Building of the Rectory of U.Porto, and another one, which includes the Hall of Biodiversity – Casa Andresen and the Botanical Garden of Porto. The core pole of the Museum, which harbours its historical collections of geology, paleontology, zoology, archaeology and ethnography, botanic (including U.Porto's Herbarium PO) and science, is now undergoing and extensive refurbishment process, and is thus closed to the public. In turn, the Hall of Biodiversity, a space which will be granted the status of science center, is now in its final phase of installation and scheduled to open to the public by the end of 2016.
More Info | Back to top
Museum of the Faculty of Fine Arts
Opened in 1996, the FBAUP Museum is living testimony of the history of artistic teaching in Portugal and the world. Here you can find a selection of the work of some of the best students from the Academy of Fine Arts since its foundation in 1836. It includes works by Portuguese artists including Dórdio Gomes, Júlio Resende, Soares dos Reis, and even world artists like Leonardo da Vinci.
More Info | Back to top
Museum of Medical History  Prof. Maximiano Lemos
The Museum of Medical History covers every period of human history in a collection which depicts the evolution of the history of medicine. The museum has an art gallery and eight rooms named after former professors of the Faculty of Medicine.
To book a visit, send an email: museuhm@med.up.pt.
More Info | Back to top
Museum of Anatomy of the Faculty of Medicine
Laid out in a semicircle around the Anfiteatro Norte (North Amphitheatre) of the Faculty of Medicine of the University of Porto, the Professor J. A. Pires de Lima Museum of Anatomy offers a unique journey around the human body – not really recommended to those with sensitive stomachs. Thousands of instruments revisit the last 150 years of the history of Anatomy.
More Info | Back to top
Museum of the Faculty of Pharmacy
The Museum of the Faculty of Pharmacy was opened in 2013 and houses a vast collection of emblematic objects related to the history of pharmacy and science in general. The collection includes a copper still, a 'pharmaceutical' distilling apparatus for the production of aromatic extracts. Visits must be booked in advance by email to secretariado@ff.up.pt.
More Info | Back to top
FEUPmuseum
The FEUPmuseum inventories and collects, preserves, interprets and disseminates tangible and intangible testimonies of the history, memory and identity of the Faculty of Engineering of the University of Porto. The study and preservation of the collection has allowed it to be disseminated in the form of temporary exhibitions and multimedia content. Visits must be booked in advance by email to museu@fe.up.pt
More Info | Back to top
Abel Salazar House-Museum
The House-Museum, located in S. Mamede de Infesta, still has the original furniture, artefacts and laboratory instruments of its original owner. Abel Salazar was not only a renowned scientist but also an artist, writer, critic, philosopher and a disseminator of progressive doctrines and ideals. His work is remarkable in several areas of science, art and literature. You can find all this in the house he lived in for 30 years.
More Info | Back to top
In addition to these museums, the University campus hosts other cultural and scientific dissemination spaces which worth a visit :
Documentation Centre of the Faculty of Architecture
The Documentation Centre of the Faculty of Architecture is accommodated in the "Escola do Porto" (Porto School). It collects, acquires and keeps historical, artistic and documental materials of value in terms of heritage related to architecture and urban development from Porto, and Portugal in general. The Museum also records, preserves, studies and displays such documentation relating to the Faculty itself and promotes cultural extension activities. The Centre provides information on any topic and a request form designed for the purpose can be requested by email ( centro.document@arq.up.pt) or post.
More Info | Back to top
Prof. Manuel de Barros Astronomical Observatory
The Astronomical Observatory was created in 1948 to help the mathematics and geographical engineering students in their astronomy classes at the Faculty of Sciences. It has hosted many research and educational activities in earth sciences, space sciences and geographical engineering. It is named in honour of Manuel Gonçalves Pereira de Barros, a professor at FCUP who strove to create the Observatory and who was in charge of it until 1968. One of the Observatory's most relevant items is the Mirror Meridian Circle, a recently renovated piece of equipment created in 1957 and, at that time, one of a only a very few in the world being used to determine the time of day based on astronomic techniques.
Visits must be booked in advance by e-mail to oa@fc.up.pt.
More Info | Back to top
Porto Botanical Garden
Occupying over 4 hectares and with a layout dating from the 19th century, U.Porto's "green lung" contains a variety of gardens and spaces that frame two main buildings that have recently been subject to requalification: Casa Andresen, whose name evokes two important names from the XX century Portuguese literature: Sophia de Mello Breyner Andresen and Ruben A., and which is currently undergoing the last stage of the installation of the Hall of Biodiversity, a space dedicated to the dissemination of the biological sciences, evolution and biodiversity; and Casa Salabert, which harbours U.Porto's E-Learning Café – Botânico.
Before one reaches the tall camellia hedges located south in the Garden, it is possible to stroll around a selection of exquisite gardens: the succulent plants garden, the schist garden, the fish garden, the bronze boy garden, and the "J" garden, in honour of its former owners Joana and João Andresen, grandparents of Sophia and Ruben A.
At the Botanical Garden, visitors can take part in guided tours for individuals and groups. And a wide range of activities intended for all population segments are regularly promoted. Likewise, during the holidays, the Botanical Garden's Educational Services organise hands-on activities for a younger audience.
More Info | Back to top
Porto Planetarium
Can you travel through the confines of the Universe without leaving the ground? You can, at the Porto Planetarium. The Porto Planetarium is run by the Astrophysics Centre of the University of Porto and can accommodate up to 93 people per session. You can enjoy an astounding view of deep space with thousands of stars and discuss topics concerning astronomy with the astronomers who are in charge of the 45-minute journeys that unveil the secrets of the universe. <class="voltartopo">Back to top
More Info | Back to top