Annual Events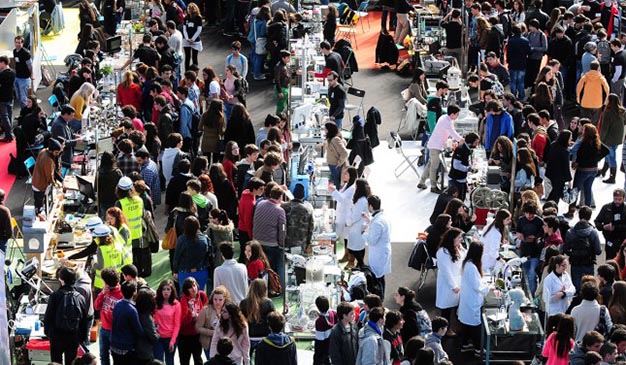 Not a day goes by at the University without a conference, a seminar, an exhibition or some other initiative taking place through the enterprise of our students, teachers and researchers. Some, however, mobilise the whole community. One of them is the University Day (March 22nd), which marks the institution's anniversary. Several schools also celebrate a Faculty Day, open to all their staff and students and to the general academic community.
U.Porto's yearly calendar includes welcoming sessions for national and international students and jointly organised events (European Researchers' Night, International Museum Day, etc.). It also lists several activities designed for high-school students, namely Universidade Júnior (Junior University – the greatest programme for initiation to university life in the country) and Mostra da U.Porto (U.Porto on Display – a yearly event bringing the University to the community and airing its offer in terms of degrees, courses, research and services).
University Day
The University of Porto Day was established in 2000 to commemorate the anniversary of the University's foundation (March 22nd, 1911). It is celebrated in a Formal Session at the Historical Building of the University of Porto. This session also honours distinguished members of the academic community (students, teachers and administrative staff), and sometimes external figures.
U.Porto on Display
U.Porto on Display was created in 2003. Every year, it opens the University up to the community and offers information on the degrees and courses available, the research being carried out and the services offered to the community at large.
For young people considering taking a degree, U.Porto on Display is the ideal starting point to find out about all the courses taught in our 14 Faculties. It also allows young potential applicants to have direct contact with U.Porto teachers, researchers and students. In 2013 alone, over 10,000 people – mostly high-school students – visited the 10th U.Porto on Display event at the Rosa Mota Pavallion (Palácio de Cristal).
More Info
Junior University
Every year from July to September thousands elementary school and high-school students take over the University to find out about the fields of knowledge taught there. This is Junior University, Junior University (U.Jr.), the largest programme for initiation to university life in the country, created in 2005.
Junior University strives to promote a zest for knowledge and to awaken potential in pre-university youngsters. Visitors can attend a number of activities designed for each age group and coordinated by U.Porto teachers, researchers and students.
More Info
Welcoming Sessions for U.Porto students
For several years now, the beginning of each semester has included a welcoming session for international students. In 2013 the University of Porto organised the first edition of its Reception Week for New Students, especially designed to help the 4000-plus undergraduates coming into our schools every year to settle in. Each school also has its own initiatives to welcome new students.
School Events
Apart from general U.Porto events, each school hosts its own initiatives. These include the Faculty Day, which usually coincides with its anniversary, and Open Days, focused on vocational guidance for pre-higher education students. At these events, youngsters are in direct contact with the courses offered in our schools and can find out all about career prospects, support systems, academic life, etc.
Student Events
Most of U.Porto's events are directed at students, but some are organised by student associations or by institutions that operate within our schools. In February, for instance, IJUP's annual conference gathers thousands of U.Porto young researchers for a 'scientific conference' in the Historical Building of the University. Another major activity is the Semana de Promoção da Inovação e do Empreendedorismo da U.Porto (SpieUP, Week for Promotion of Innovation and Entrepreneurship at UP), organised by the U.Porto Entrepreneurship Club (CEdUP) which brings to Porto some of the country's most distinguished entrepreneurs.