Cultural Activities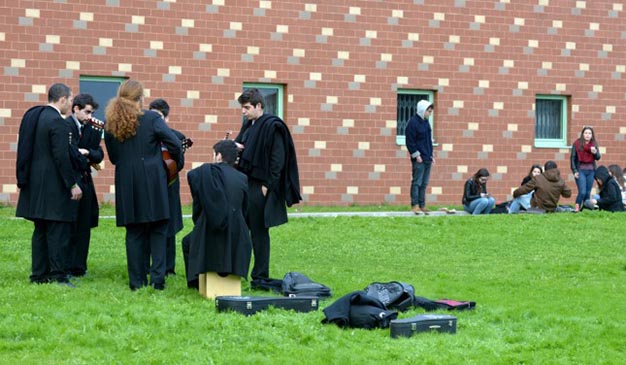 The University of Porto provides its students with the chance to show their talents and sense of initiative in various cultural events (music, theatre, cinema, literature, art) organised within the academic community.
There are many cultural institutions in the University. One of the most venerable is the century-old Orfeão Universitário do Porto (OUP – Porto University Choral Society), which includes several groups that take part in festivals and shows all over the world: Fados group, dance and folk music groups, Tuna Feminina do Orfeão, Tuna Universitária do Porto, etc. Students can also take part in each school's tuna (musical group) and choir. They can also become part of the Núcleo de Etnografia e Folclore da U.Porto (NEFUP, U.Porto Center for Ethnography and Folklore), a cultural society devoted to collecting, studying and disseminating Portuguese folk traditions.
Students who are interested in theatre can choose to join our historical Teatro Universitário do Porto (TUP, Porto University Theatre). Founded in 1948, it is the city's oldest functioning theatre group and it contributed immensely to amateur theatre. Today, the group mostly stages plays by authors new to Portugal and regularly holds courses and workshops on theatre issues. Some U.Porto schools have their own theatre groups.
Most U.Porto schools also have societies specialising in other activities, including model making, diving, photography, cinema, computing, debating, mountaineering and martial arts. Student Associations often also play an important part in improving academic life, by organising exhibitions, public lectures, film seasons and other cultural events.
Cartão U.Porto gives national and international U.Porto students special conditions for access to a range of cultural events and facilities in the city (such as those run by City Hall) and to cultural activities organised jointly with the University of Porto.