U.Porto Memory
Rectory Building of the U.Porto - Urban environment
Judiaria Nova do Olival
In 1386, King João I order the Jews scattered in Porto - they lived in Aldas and S. João Novo, as well as in the Jewish neighbourhoods of Castelo, Minhota and Monchique - to move to an enclosed space, justifying the measure with security reasons.
The Jewish ghetto occupied an area of 30 strips of land for which they paid an annual fee of 200 maravedis, as stipulated in the contract signed with the City Council on 2 June 1388. It was fenced off and had two doors, one facing the Largo da Porta do Olival, and another facing the "Escadas da Esnoga" (now Escadas da Vitória) and the Belmonte path.
Soon, and in a rational way, the Jews developed this far removed and economically unattractive area, since only many years later were the roads Rua Nova or Formosa, then Rua Nova dos Ingleses, now Rua Infante D. Henrique, open between the Convent of S. Francisco and the end of Rua dos Mercadores, usually considered the first modern urban development in Porto.
The Judiaria Nova do Olival developed around a main axis (north-south) formed by Rua de S. Miguel (now S. Bento da Vitória and S. Miguel streets), with perpendicular roads stemming from it. It was a town within a town, limited to the north by an alley towards the barreiras, and outside it stood the "outão" and the Olival furnace, as well as the Synagogue, probably in the place later occupied by the Nossa Senhora da Vitória Church.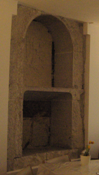 The Jews lived and prospered here, and assimilated the Hebrews expelled from Castile in 1487. The edict of expulsion by King Manuel I (December 1496) brought the end of the Jewish quarters, and many Jews abandoned the kingdom, while others converted to Christianity. These became known as New-Christians.
The empty houses were given to old Christians and a Benedictine monastery was built in the centre of the old Jewish town in the 16th century. At the time of the Filipe Dynasty, this area housed some Spanish troops.
Recently, during some construction works at a house in Rua de S. Miguel (nos. 9-11), an ehal (ark) was found containing the Torah. This object was identified by archaeologists and historians of the Faculty of Arts of the University of Porto as one of the four existing ones in Portugal, dating from the late 16th or early 17th centuries.