U.Porto Memory
Rectory Building of the U.Porto - Designers
Gustavo Adolfo Gonçalves de Sousa (1818-1899)
Gustavo Adolfo Gonçalves de Sousa was born in Porto in 1818.
During his youth, he fought in the Siege of Porto (1832-1833), having served as second-lieutenant in the battalion commanded by José Vitorino Damásio (1807-1875), worked as engineer, professor and was the founder of the Porto Industrial Association.
In this city, he attended the Polytechnic Academy of Porto. On 18 September 1850, he received his diploma in Civil Engineering of Bridges and Roads.
In 1851, he was appointed substitute teacher at the Polytechnic Academy of Porto, and became the first former graduate student at the school to become part of its faculty. Seventeen years later, by Decree dated 7 October 1868, he was promoted to the position of Professor of the 5th chair (Astronomy and Geodesy), succeeding Joaquim Torcato Álvares Ribeiro. In 1853, he also taught the 3rd and 5th chairs at the Porto Industrial School, encouraged by José de Parada e Silva Leitão, a liberal fighter, professor at the Polytechnic Academy of Porto and founder of the newspaper "Jornal da Associação Industrial Portuense".
Gustavo de Sousa joined the committee for the construction of the Polytechnic Academy, designed by José da Costa e Silva and Carlos Amarante, and in 1862 he proposed some changes to the building whose construction was already underway. This was the reason why, at its meeting on 30 July that year, the Academic Council of the Polytechnic Academy thanked Gonçalves de Sousa "for the hard work he had in preparing the plans and cuts of the Academy building, offering an excellent work to the government that honours the Academy".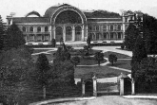 On 26 January of the following year, the "master plan" of the building works was sent to the competent authorities, consisting of facilities for the Polytechnic Academy, for the Porto Academy of Fine Arts, for the Industrial School and the Public Library.
Between 1860 and 1879, Gonçalves de Sousa directed the works of the Stock Exchange, where, among others, he projected the Grand Staircase (1862) and the Arab Hall (former "Reception Hall"), built from 15 September 1862 on and inaugurated on 12 June 1880, during the commemorations of the third centenary of the death of Luís Vaz de Camões (1524-1580).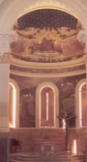 In the 1860s, Gonçalves de Sousa collaborated in the construction of the Crystal Palace, designed by Thomas Dillen Jones and executed by F. W. Shields. He was the director of the Porto Industrial Institute, worked in the department of Public Works, in the construction of roads and was an engineer at the Porto City Council. He prepared the projects for Avenida da Boavista during the second half of the 19th century and outlined the plans for the new general chapel of Agramonte Cemetery, initiated between 1870/1871 and amended in 1906 by architect José Marques da Silva.
He died in Porto on 30 March 1899.