U.Porto Memory
Urban framework of the Rectory Building of the U.Porto - Carlos Alberto Square
First World War Memorial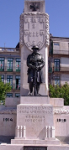 The monument erected in Carlos Alberto Square in memory of the soldiers who died in the First World War stands in the middle of a triangle, decorated with flowerbeds. Its construction began in 1927 and it was inaugurated on 9 April the following year.
Done by Architect Manuel Marques and the sculptor Henrique Moreira, the base of the monument is cross-shaped, and consists of a squared column decorated with shields.
This monument replaced a sculpture by José de Oliveira Ferreira, erected in the same place on 11 November 1924 at the initiative of the Northern Patriotic Board, but demolished by the Porto City Council on 15 January 1925.

Monument to General Humberto Delgado

The monument erected in honour of General Humberto Delgado was done by master José Rodrigues and was inaugurated on 14 May 2008. It was built in memory of the event on 14 May 1958 when tens of thousands of people awaiting the arrival of the candidate to the Presidency of the Republic at the São Bento Railway Station, followed him to his head-quarters, located above the Café Luso. Standing before the crowds, the politician gave a memorable speech: "My heart will remain in Porto".

Casa Moreira Couto

At the corner of Gomes Teixeira and Carlos Alberto squares, there is an 18th century manor house, boasting the coat-of-arms of the Moreira Couto family.
It was built quite possibly by Dr. Bartolomeu Moreira do Couto, a lawyer in Porto and official of the Holy Office, who in 1739 married D. Antónia Josefa Caetana de Oliveira Pinto, from Quinta do Outeiro, Fonte de Arcada.

Teatro Carlos Alberto
At the corner of the Palace of the Viscount of Balsemão we find Rua das Oliveiras, which received its name from the old Horto do Olival [Olival garden], crossing it from the Campo do Olival (now, Campo dos Mártires da Pátria). The Carlos Alberto Theatre is located in this street, which was once called Viela dos Ferradores. It was built on the old garden which belonged to the Palace of the Viscounts of Balsemão, at the initiative of Manuel da Silva Neves, and was inaugurated on 14 October 1897.
Originally, the Theatre only hosted popular shows. At the end of the 1970s, when it was used almost exclusively for the exhibition of films, it was leased by the Secretariat of State for Culture and used as the National Auditorium Carlos Alberto. Later, it was bought by "Sociedade Porto 2001". After renovation works by Nuno Lacerda Lopes, the theatre reopened in 2003.