U.Porto Memory
Rectory Building of the U.Porto - Framework: South side
Motim dos Taberneiros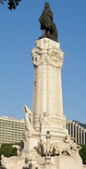 In 1757, Porto witnessed two popular uprisings against the Companhia Geral de Agricultura e das Vinhas do Alto Douro, established in 1756 by Sebastião José de Carvalho e Melo, the future Marquis of Pombal.
The discontent caused by the establishment of this monopoly company was felt among the agents involved in the manufacture and marketing of Port wine, i.e., English traders and their employees, and also among the many innkeepers [publicans], coopers and small storekeepers in the city.
The first and most important mutiny happened in the morning on 23 February to the sound of the bells of the Cathedral and Misericórdia. The rebels gathered at the Cordoaria and shouting slogans walked to the judge's residence, in Largo de S. Domingos, who was dragged by the mob and carried on a chair for supposedly being unwell.
The large and heated crowd then walked to Rua Chã, to the houses of the chief of justice, who was told to extinguish the Companhia, and of the provider, Luís Beleza de Andrade. The office of the Companhia, the house of its provider - where a servant fired on the rebels - and the neighbouring houses of Manuel Barroso (secretary of the Companhia) and of Custódio dos Santos (vice-secretary) were vandalized.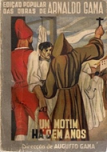 After these violent episodes, tension eased somewhat and at about three in the afternoon the Ash Procession paraded in town. However, this affront to the central power was far from forgotten, because, despite the apparent passivity of the authorities, news of the mutiny had reached Lisbon and Judge Bernardo Duarte de Figueiredo learned about it.
Five days later, on 28 February, D. José I order João Pacheco Pereira de Vasconcelos to open an inquiry in Porto. On 15 March, shortly after the arrival of the royal messenger, the second mutiny broke out.
In these popular uprisings 462 suspects were identified, 26 of which were condemned to the gallows (21 men and 5 women). The city was taken over by the several military regiments from Beira, Minho and Trás-os-Montes, the Porto population were responsible for the billeting of troops, a new tax was released to pay the wages and ammunition, the town council officials were replaced, the "Casa dos 24" was extinguished, and João de Almada e Melo was appointed Governor of the Military Party of Porto.
In the end, eight of the condemned rebels managed to escape, one of the women escaped the gallows because she was pregnant, and the remaining 17 sentenced to death were either hanged or beheaded on 14 October 1757. Their heads were place on gibbets, and their slain bodies were left in Largo de S. Domingos, in Rua Chã and Rua Cimo de Vila, and in Miragaia yard for public viewing.