Learning Portuguese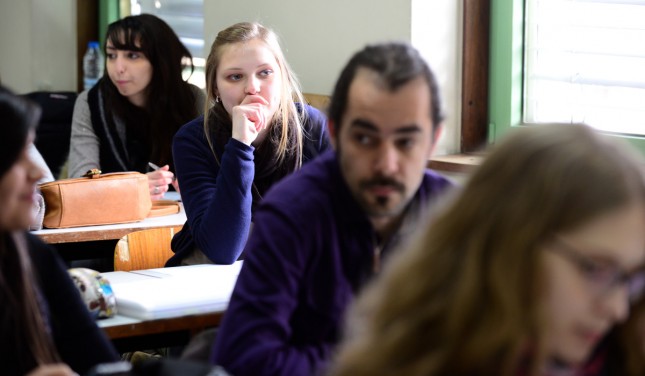 Although the number of courses taught in English has been increasing from year to year in the University of Porto, our international members should try and learn some Portuguese, after arriving to Porto, or even better, before leaving home. This is especially important for mobility students, not only because most of the subjects in our courses are taught in Portuguese, but also because learning the language is one of the biggest assets of being at the University: the chance to learn the third most widely spoken European language in the world, with about 200 million speakers. 
The Faculty of Arts of the U.Porto offers a number of Portuguese language courses. Indeed, foreign students can choose to attend one of the intensive Portuguese language beginners courses offered every year in September and in February. These courses have 60 hours of classes and a certificate is issued to students who pass them.
Additionally, in July each year the Faculty of Arts organises a Summer Course of Portuguese Language and Culture for Foreigners. This course is divided into 4 levels (beginners, elementary, intermediate and advanced). The course includes guided tours.
The Faculty of Arts also organises an annual Portuguese Language and Culture Course for Foreigners, running between October and June and divided into 5 levels (beginners, elementary, intermediate, advanced and superior). This course includes some study visits aimed at providing the students with supplementary social and cultural background information.
Mobility students under the Erasmus + programme who wish to enrol either for the Intensive Portuguese Language Beginners Course or for the Portuguese Language and Culture Course for Foreigners can enjoy special discounts. The Faculty of Arts offers other language courses under the University's lifelong learning programmes, and several of them are intensive.
Contact Information:
Portuguese for Foreigners Office
Faculty of Arts of the University of Porto
Via Panorâmica, s/n, 4150-564 Porto
Ground floor, room 074
Phone number: (+351) 22 607 7165
Email: ple@letras.up.pt
More Information