U.Porto Memory
University of Porto Famous Alumni
Adolfo Casais Monteiro
Adolfo Casais Monteiro
1908-1972
Poet, essayist and professor


Adolfo Victor Casais Monteiro was born on 4th July 1908, in Massarelos, Porto. Son of Adolfo de Paiva Monteiro and Victorina de Sousa Casais Monteiro, he received a lay education, focused on the values of culture and intellect - as was common to his social status.
Five years after the establishment of the Republic, Casais Monteiro attended the second degree of primary education at the Almeida Garrett school, in Porto, and later started his secondary school studies at the secondary school Rodrigues de Freitas. In the mid 20s, upon the establishment of the military dictatorship, he entered the Faculty of Arts of the University of Porto where he enrolled in Geographical and Historical Sciences. He eventually obtained his university degree in Historical and Philosophical Sciences, in 1933.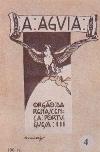 When he was attending the university classes in Porto, Casais Monteiro's literary activities gained more relevance as he entered the direction of the Águia magazine, the same year he published his first poem, Confusão (1929). He then deepened his friendship with Leonardo Coimbra, by whom Casais Monteiro was influenced. By then he started his political activities as part of the movement Renovação Democrática (Democratic Renovation), where he worked at the editorial board. Casais Monteiro fought for his principles all over his life; he was arrested several times for fighting against the dictatorship regime of the Estado Novo, established in 1933.

In 1931 he was named the director of the Presença, a magazine of critical and artistic analysis, where his writings gained more relevance. He directed the magazine until 1940, together with Gaspar Simões and José Régio. He then left the magazine for internal problems, which would eventually lead to its closing down. He studied Pedagogical Sciences in Coimbra in 1934, sat the national exam at the Liceu Normal (the final stage of his pedagogical training) and entered the secondary school D. Manuel II (former Rodrigues de Freitas) as a teacher. That same year he married to Alice Pereira Gomes, sister to Soeiro Pereira Gomes, but would divorce her after his departure to Brazil. Just like many other intellectuals who fought against the Estado Novo regime, Casais Monteiro was pursued for his political ideals, and was compulsorily withdrawn from his teaching career in 1936. In 1954, he was forced to depart to Brazil in exile.
His literary activity spread to several genres, including poetry, essay, theorization, novel and criticism. In 1933, the works Considerações Pessoais (essay critique) and Correspondência em Família, were published, with the assistance of the Brazilian poet Ribeiro Couto. In the 1940s, he published several works (mainly poetical), of which Canto da Nossa Agonia (1942) and Europa (1946) stand out.
In 1945, he participated in the MUD (Movimento de Unidade Democrática, the Democratic Unity Movement), and, the following year, he worked for the weekly newspaper Mundo Literário. He published his first novel, Adolescentes, that same year. He also worked with several magazines and newspapers, such as Seara Nova, O Diabo and Animatógrafo. He worked both as a literary critic, and as a critic of other genres (including cinema and theatre).
Before he left to Brazil in 1954 in search of the freedom of action he did not have in Portugal, Casais Monteiro participated in the organization of poetic anthologies, as well as in works aimed at paying homage to foreign and Brazilian writers.
After he left, his personal character softened. He directed several courses on topics which were of particular interest to him, including literature and novels. However, criticism is where Casais mostly stood out. In 1962 he settled in Araraquara, at the local Faculty of Philosophy, Sciences and Arts, in the State of São Paulo.
In the company of his son (but not his wife, from whom he had divorced in the meantime), he was very busy producing literary works and working with newspapers like O Globo, Estado de São Paulo or Portugal Democrático.
He spent a semester in Madison, USA, replacing his friend Jorge de Sena as a teacher. Although his influence is greater in Brazil, in 1969 he published the work Poesias Completas, which includes O Estrangeiro Definitivo - the poem that consecrated him as an author. His thesis, which allowed him to work freely as a teacher, Estrutura e Autenticidade na Teoria e na Crítica Literárias (Structure and Authenticity in Literary Theory and Criticism) was published posthumously, in 1984.
He died with heart disease at home, close to his son's, in São Paulo, on 24 July 1972, having never returned to Portugal.
(Text by Luís Manuel Gonçalves Pereira, 2008)