U.Porto Memory
Rectory Building of the U.Porto - Framework
Eugénio dos Santos e Carvalho (1711-1760)

The architect and military engineer Eugénio dos Santos e Carvalho was born in March 1711 at the home of the Carvalhos family, in Rua Direita, parish of Nossa Senhora dos Prazeres, Aljubarrota, to a family of masons from Mortágua. His father, António dos Santos, was a mason and designer, and his paternal grandfather, António de Carvalho, was also a mason. His mother was from Aljubarrota.
After completing his studies at the "School of Military Fortresses and Architecture", he enjoyed a brilliant career and held important functions. He was an army officer, engineer, and later captain-engineer, inspector and executor of the Royal Architecture Works of the Court, architect of the Royal Palaces, architect of the Lisbon Senate, architect and surveyor of the Navy, Director of the Casa do Risco, member of the brotherhood of S. Lucas and Knight of the Order of Christ.
His professional recognition increased significantly after the 1755 earthquake when he became one of the main workers rebuilding the city of Lisbon in close collaboration with the head of works, chief engineer Manuel da Maia, and with the Hungarian engineer Carlos Mardel.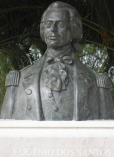 Among many other works, Eugénio dos Santos e Carvalho outlined the recovery plan for the capital, directed, along with Carlos Mardel, the works in the Monastery of S. Bento da Saúde (now the Parliament), designed the new plans for the Customs buildings, Arsenal, Fábrica do Tabaco and Ribeira das Naus, and prepared the preliminary project of the statute of D. José I to be built in Terreiro do Paço, in Lisbon. In Porto, he designed the Jail and Court of Appeal, perhaps one of the most unique works from the "almada" period.
Eugénio dos Santos e Carvalho married D. Francisca Teresa de Jesus da Costa Negreiros in 1747, who descended from an influential family of architects of the court. He died in Lisbon in Rua da Rosa das Partilhas, parish of Mercês, on 5 August 1760. He was buried in the Church of S. Francisco.