U.Porto Memory
University of Porto Famous Alumni
Álvaro Lapa
Álvaro Lapa
1939-2006
Painter, teacher and writer


Álvaro Carlos Dinis Lapa was born in Évora on 31 July 1939.
He was separated from his family at the age of eight when his father was arrested, a tragic event which forced his mother and his two younger siblings to move to Barreiro, where she had found work, whereas Álvaro was looked after his godparents.

During his initial training period, he contacted two very important Portuguese men: in 1950, he was taught painting by artist António Charrua (1925-2008), aiming to improve his Drawing grades; in the 6th and 7th years, he was taught by Vergílio Ferreira, the writer (1916-1996), which led him to write poetry.
Having completed his secondary education, he settled in Lisbon in 1956. In the two following years, he attended the Faculty of Law and published a text on Kafka and participated in an "Art Mission" in Évora, where he came into contact with abstract expressionism.
Shortly after, he abandoned Law and decided to study Philosophy (1960-1962), travelled to Paris (1961) where he contacted with Surrealist artists and the emerging American art.
In 1962, he began to paint along with his friend Joaquim Bravo, taught Portuguese at the Portalegre Technical School, met the artist António Areal (1928-1978), who influenced him greatly, and married his university colleague Maria Helena Azevedo. In the following year, he was removed from the Public Service on suspicion of being a leftist activist, and had his first son, Hugo.

In 1964, he continued to study Philosophy and exhibited his work for the first time in a solo exhibition at the 111 Gallery, in Lisbon. From then on, he exhibited his art on a regular basis in the Portuguese artistic circle.

One year later, his second son, Frederico, was born, and he moved to Lagos where he resumed his friendship with sculptor João Cutileiro (1937-).

At the end of the 1960s, his daughter Sofia (1968) and son Raul (1969) were born. In the meantime, Álvaro Lapa received the first of many painting awards (2nd prize at the Exhibition of Queima das Fitas of Coimbra, in 1968, and the 3rd prize at the 1st Art Salon of Lagos, in 1970). He travelled to Scandinavia in 1970, where he experimented with other forms of art.

He returned to Lisbon in 1971, travelled across Europe and the North of Africa and separated from his wife. In the following year, he wrote about Joaquim Bravo, in Lagos and in Évora. In 1973, tormented by psychiatric problems, he found support in his friend Cutileiro, who encouraged him to move to Porto, and in his new partner, painter Maria José Aguiar.
Having overcome the troubled phase of his life, he wrote three books (Raso como o Chão, in 1974, Barulheira, in 1976, and Porque Morreu Eanes, in 1977). He decided to study once again and completed a Philosophy course at the Faculty of Arts of the University of Porto (1975). In 1976, he won a scholarship from the Calouste Gulbenkian Foundation and went back to teaching, first at the Preparatory School of Póvoa de Varzim, and later at the Porto School of Fine Arts.

His daughter Violeta was born in 1980, and in the following year he married Maria José Aguiar.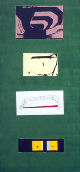 In the following years, he met José-Augusto França, historian and art critic, who supervised his PhD thesis on Surrealism in Portugal, and met the poet and artist António Dacosta (1914-1990).

In 1998, the "Artistas Unidos" staged "MIKADO", at the old Mundet factory in Seixal, a play based on texts by Álvaro Lapa, Alberto Cinza and William Burroughs, a project by João Meireles and Joaquim Horta, and produced by Catarina Saraiva and Pedro Gaderet.
In 2003, he was responsible for the decoration of the Odivelas Metro Station, in Lisbon.

Álvaro Lapa died in February 2006. He was a creative and free man, philosopher and self-taught artist who dedicated his whole life to Painting and Art, two inseparable and complementary activities in his work.
(Universidade Digital / Gestão de Informação, 2009)