Notícias
SEMINÁRIOS FMUP | Uma sessão com dois palestrantes
6 de fevereiro | 13h00 | Sala 4 CIM
A próxima edição dos
Seminários FMUP contará com a presença de dois palestrantes
:
-
Marta Teixeira Pinto
: "
In vivo
 CAM assays. The chick embryo ChorioAllantoic Membrane (CAM) model"
-
Hugo Osório
: "Mass spectrometry-based proteomics approaches"
A entrada é livre.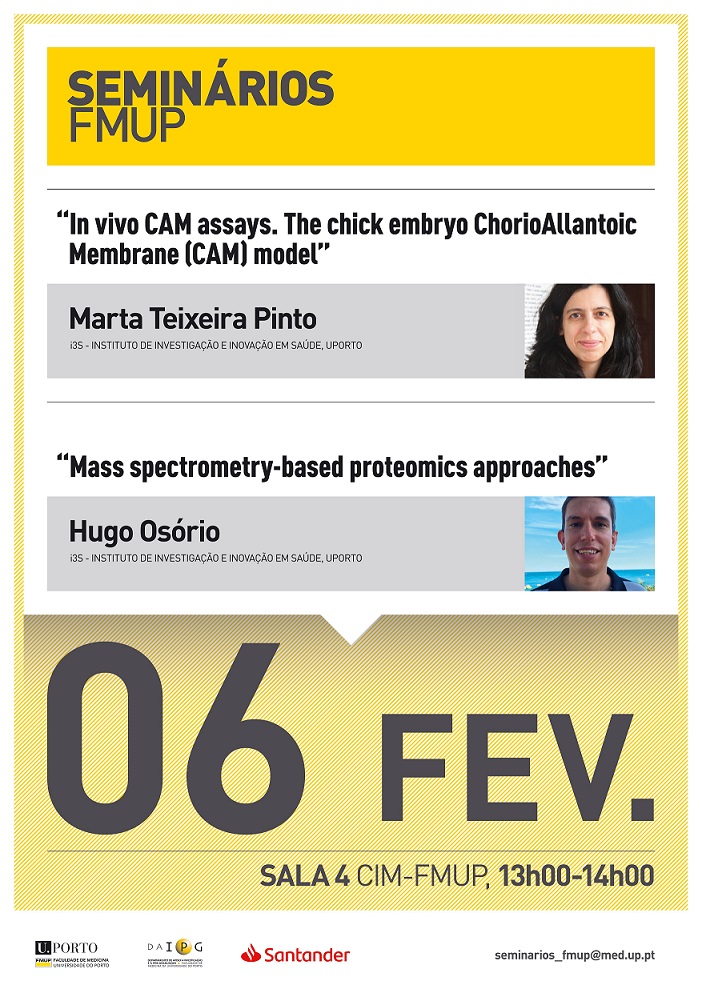 Notas Biográficas:
- Marta Teixeira Pinto is responsible for the in vivo CAM assays unit at Ipatimup/I3S which provides custom-made in vivo assays using the chick embryo chorioallantoic membrane (CAM) model. She graduated in Biochemistry (FCUP, 1999), completed her MSc degree in Neurosciences (FMUL, 2001) and obtained her PhD in Human Biology (FMUP, 2008). MT Pinto joined Ipatimup as an Investigator (Ciência2008) of the Cancer Genetics Group and was mainly dedicated to study cancer angiogenesis, invasion and metastasis, using an animal model that fulfills the 3Rs principals. MT Pinto is author in more than 30 publications within her subject of interest.  
-
Hugo Osório
is the team coordinator of the Proteomics Scientific Platform at i3S and a researcher at the Glycobiology in Cancer group. He is also an Affiliated Professor at the Faculty of Medicine of the University of Porto. He graduated in Biochemistry at University of Porto in 1999 and finished his PhD in Biomedical Sciences in 2004 at ICBAS-UP. He is specialized in proteomics and mass spectrometry applied to health and life sciences. His major research activity is focused in the search for novel protein biomarkers with diagnostic application in cancer with an emphasis in protein post-translational modifications namely glycosylation. Hugo Osorio has 54 publications in international peer-reviewed journals and three book chapters. His research work has around 1000 citations and an h-index of 15 (Scopus).