XIV International Seminars "Overarching Issues of the European Area"
24 to 26 may | 8:30 am | Amphitheater 2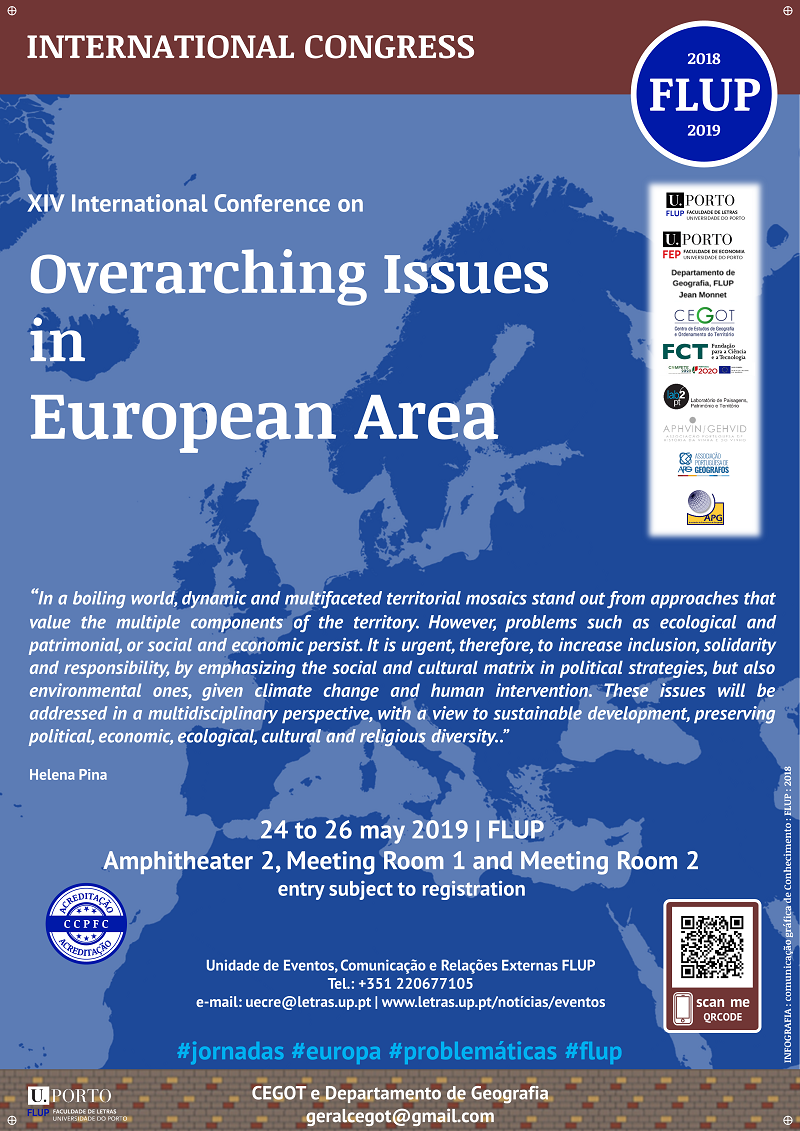 In a world in constant upheaval with a myriad of problems, a highly diversified and dynamic territorial mosaic, however, still persists, particularly within Europe. Its potential is manifold, inspiring strategies aimed at progressive, intelligent and inclusive development, in an attempt to go beyond the economic dimension and strategic and commercial interests. Other approaches have been established, particularly addressed at environmental and sociocultural issues, leading to policies focused on the conservation of landscapes, the safeguarding of heritage and the revitalisation of social frameworks.

This latter aspect, though, requires more urgent attention, given the rise in migratory flows throughout the continent, and the spread of territorial unbalances and inequalities, while antagonisms at several levels are being revived. There is an urgent need to foster greater solidarity and responsibility, highlighting the social dimension in public and private strategic policies. There is also the need to encourage convergences and the renegotiation of the conflicts that are largely at the root of continuous population flows. Even though they were initially vehemently rejected, these migratory flows are starting to be regarded as opportunities, particularly with regard to the structural rejuvenation of the European population.

At the same time, progressive environmental degradation is unquestionable, with the destruction of scenarios that are the mainstay of human life, as they undergo progressive mutation/destruction, a reflection of climate change and human intervention. This problem has been addressed at different scales, since the sustainability of these ecosystems, cultures and traditions, their distinctiveness, starts at the local level and continues throughout the European space until it reaches the global level. This, however, implies the convergence of global policies and the emphasis on environmental and social strategies.

These issues should, then, be seen as a means to foster more responsible and balanced development, allied to policies aimed at preserving ecological, economic, cultural, religious and political diversity. The framework of development should be innovative, addressing for example, a circular economy or a bioeconomy, based on digital resources, on increasing literacy, on education and on training. These measures will also lead to greater efficiency in the management of endogenous resources, rooted in more sustainable, innovative and intelligent development and in territorial cohesion.

As long as these goals are not achieved, we are obliged to continue to reflect on these topics, on their complexity and diversity, correlating the European space with other spaces, such as the Lusophone, particularly Brazil, with which joint projects and strategic aggregating studies have been developed. The 14th International Seminars on the "Overarching Issues of the European Space" aims to address these issues through multiple approaches, in a multidisciplinary and interuniversity setting inviting specialists from several countries to participate. The intention is to promote readings and reinterpretations of local, regional, national and global dynamics.
Thematic proposals:
1- Society and Culture
2- Innovation, Education and Teaching
3- Landscape, Heritage and Spatial Development
4- Economy and Spatial Planning
5- The Environment and Sustainable Development


The best papers will be considered to publication in an E-book indexed in Google Scholar, in Repositório UP, in RCAAP, in DRIVER and in BASE (Bielefeld Academic Search Engine).

Registration (It's required for all participants):
1.ª -  12th May, 2019
2.ª - 13th - 20th May, 2019
Registration Form


Programme