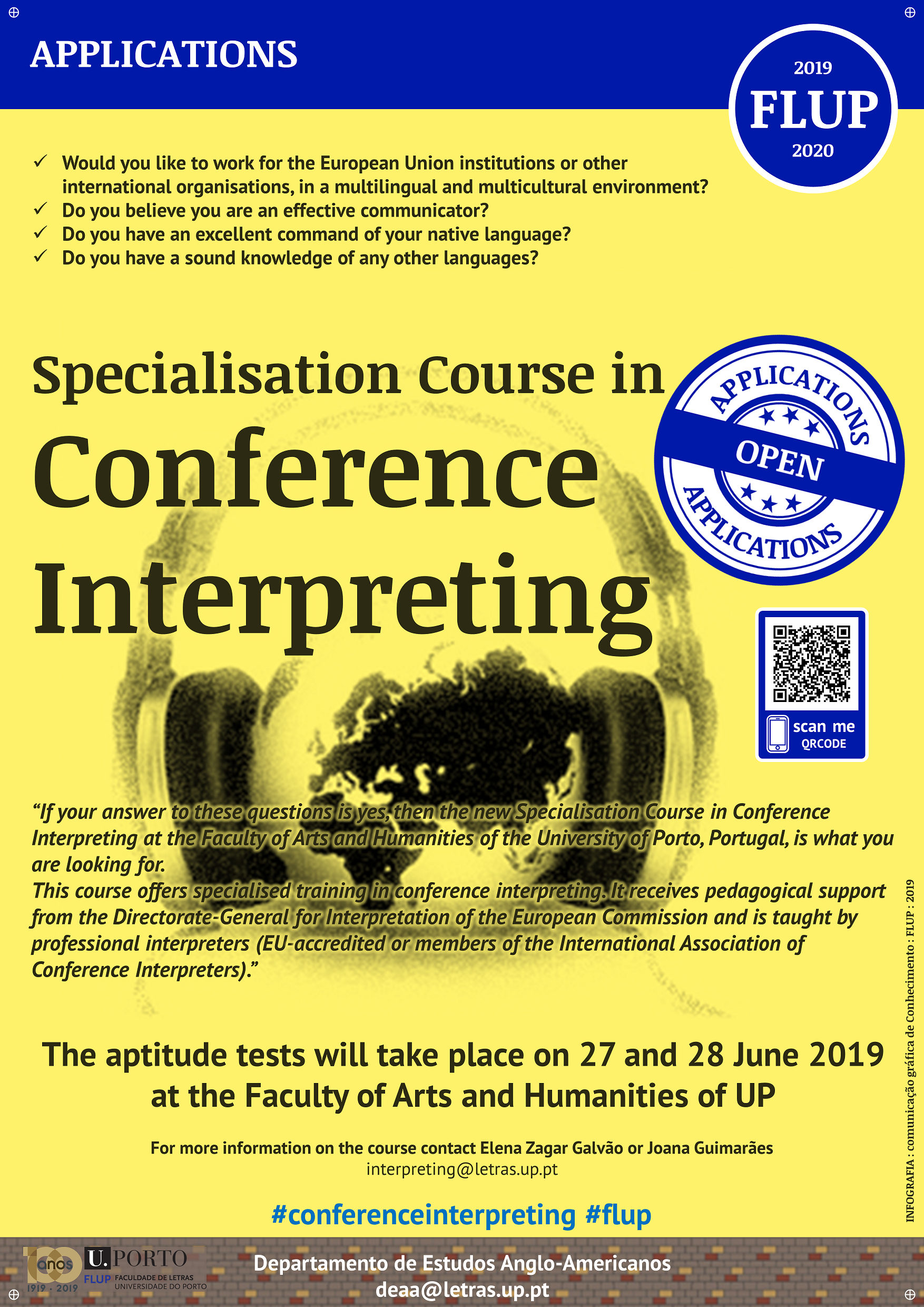 Eligibility criteria
Applicants must fulfil the following requirements. They must:
- hold a first-cycle degree (or a legally recognised equivalent) in any subject area;
-  have an excellent knowledge of their native langauge (A* Language), preferably Portuguese;
- have in-depth knowledge of their other working languages (B and/or C Languages ), one of which must be English
- preferably have an A-CCC or an A-B-C language combination; A-C-C is also acceptable, in case of less frequent combinations;
- be conversant with international politics as well as the social, economic and cultural landscape of the countries where their working languages are spoken;
- have good speaking skills, concentration, analysis and synthesis skills as well as a high degree of motivation and the ability to work under pressure;
- be available to attend classes full-time;
- pass the aptitude tests.
* Please refer to the explanations provided by AIIC at 
https://aiic.net/page/4004/
Aptitutde test (27 e 28 June 2019)
The test includes the following elements:
- oral reproduction of a short speech (approx. 3 minutes) from an applicant's C or B languages to the A language and, from A to B, when applicable (50%)
- short oral presentation on a current affairs topic in a language selected by the applicant (30%)
- interview (20%)

The European Commission's Directorate-General for Interpretation (SCIC) provides bursaries for post-graduate studies in conference interpreting.
More information on eligibilty criteria at: https://ec.europa.eu/info/education/study-or-teach-abroad/scholarships-and-student-finance/find-scholarship/bursaries-interpretation-students_en
Course duration:
1620 hours, 600 of which are contact hours
Credits:
 60 ECTS
Calendar
: 
16 September 2019 to June 2020
Timetable
: To be announced
Tuition:
4.500¤00
Applications:
until 4  September 2019.
To apply, please select the option "Candidaturas de ingresso" (in the Portuguese version) or Admissions Applications (in the English version) from the right-hand menu.
For more information, please contact the course coordinator, Elena Galvão, at 
interpreting@letras.up.pt
Objectives
The main objective of the Specialisation Course in Conference Interpreting is to train highly qualified conference interpreters for both institutional and private markets. The training comprises theoretical and practical components that enable students to acquire and develop the skills and strategies needed to interpret consecutively and simultaneously at professional level.
In addition, the course seeks to equip students with a range of relevant skills. Besides oral communication skills, students will learn how to prepare for different types of interpreting assignments, how to best locate, collect and organise information on a variety of topics, how to compile lists of terminology and thematic glossaries, etc.
Students will also learn about professional deontology and best practices in conference interpreting, such as team work in international and multicultural events, how to cope with stress, etc. 
Fields of Specialization
Conference Interpreting:
Consecutive Interpreting (short and classic consecutive)
Simultaneous Interpreting
Professional Abilities
Interpreting in the consecutive and simultaneous modes
Other modes: remote and liaison
Organisation of interpreting teams for international events
Preparation of the information and terminology needed in specific interpreting assignments
Employment Prospects
Students who successfully complete the course are eligible to take the tests to work as freelancers for the European Institutions (European Commission and European Parliament). 
More information at 
http://europa.eu/interpretation/index_en.html


They can also apply to work as staff interpreters in the same institutions.
More information at
https://ec.europa.eu/info/jobs-european-commission/working-eu/interpreters-recruitment-european-commission_en

Students can also apply to other national and international institutions that recruit interpreters and work as freelancers in the private market in Portugal and abroad.
Information
Course units
Introduction to Interpreting Techniques
Consecutive Intepreting 1
Professional Practice in Conference Interpreting
Introduction to Interpreting Studies
International Organisations
Terminology and Lexicography
Simultaneous Interpreting
Consecutive Intepreting 2
Introduction to Public Service Interpreting
Optional Course Unit 1: any 2nd-cycle course unit at FLUP
Optional Course Unit 2: any 2nd-cycle course unit at FLUP
Contacts
Academic Management Office
Via Panorâmica, s/n
4150-564 Porto
Email:
sga@letras.up.pt