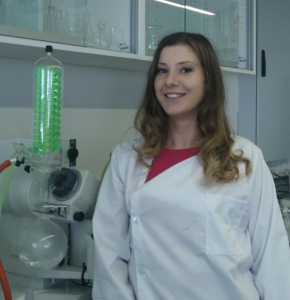 O Jornal "Pharmaceuticals" atribuiu um "Travel Award" à Doutora Diana Resende
.
O seu trabalho foi selecionado entre as candidaturas de Investigadores Pós-doc de 14 países (Áustria, Bélgica, Brasil, França, Alemanha, Itália, Roménia, Rússia, Espanha, Tunísia, Reino Unido, Estados Unidos da América e Portugal).
A sua comunicação intitulada "Synthetic Strategies for the Preparation of Quinazoline Alkaloid Derivatives with Promising Biological Activities", foi apresentada no "20th European Symposium on Organic Chemistry (ESOC 2017)" que decorreu em Colónia (Alemanha) de 2 a 6 de julho.
A Doutora Diana Resende é Bolseira de Pós-Doc e integra a equipa de Investigação da Prof.ª Madalena Pinto, desenvolvendo o seu trabalho de investigação no Laboratório de Química Orgânica e Farmacêutica da FFUP, em colaboração com o CIIMAR, e integrada no projeto INNOVMAR-Innovation and Sustainability in the Management and Exploitation of Marine Resources (NORTE-01-0145-FEDER-000035), suportado pelos Programas Norte 2020, Portugal 2020 e ERDF.