Notícias
BIN@PORTO 2021: Human-centered Innovation
BIN@PORTO 2021: Human-centered Innovation | FEUP | UPTEC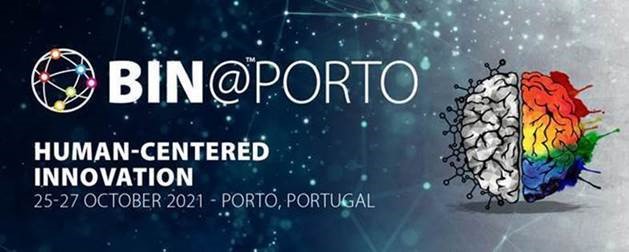 WHAT?     Annual event of Business & Innovation Network (BIN@™)
WHEN?     25 – 27 October 2021
WHERE?  At the Faculty of Engineering of the University of Porto (FEUP) and at the Science and Technology Park of the University of Porto (UPTEC)

Official website: fe.up.pt/binporto2021

Registrations: make your registration here

Dear member of the academic community of FEUP,
We are glad to invite you to the BIN@ annual event 'BIN@PORTO 2021' which this year has the motto 'Human-centered Innovation' and is structured around three pillars: SOCIETY, CIRCULARITY and HEALTH & WELL-BEING. The participation in this international event to be held in English is free-of-charge, but a pre-registration is required.

Important notes concerning registration:

(1)  Open Sessions (25 October), as the title indicates, are open to all interested participants and all the presentations of this day can be easily attended as there is no overlap between the sessions.
(2)  On the other hand, when choosing between the parallel Action Tank sessions (26 October), please be attentive as for the same time-slot you can only choose one session.
(3)  As regards the UPTEC Sessions (27 October), the majority of the activities of this day are fully open to public (all open-to-public programme parts are available in the registration form). Also the separate workshop under the EIT Manufacturing Activities (27 October at FEUP) is open to public given the prior registration.  
(4)  If you are interested in professional B2B meetings, please let us know by filling in a topical field in the registration form. Subsequently the event organisers will notify you if we have been able to find a match and are thus able to promote a meeting.
As regards the possibility for a company stand, we are to inform that you can still indicate your interest for this opportunity, however at this moment we are accepting new manifestations of interest with reservations given that after opening the event registrations we have been able to assure, in great part, the maximum number of companies/startups that can be physically present with a booth. At the same time, and only if the sanitary rules in force at the time of the event should allow to increase the stand area, we shall inform the interested companies of this new availability.   
(5)  Depending on the evolution of the pandemic situation, the in-presence participation might be conditioned on the guidelines and rules in force at the time of the event. Due to this, some of the activities might be held digitally. For the moment, however, we are planning for a completely physical event.

BIN@ in LinkedIn and Facebook

Read more about BIN@ here.
:::::::::::::::::::::::::::::::::::::::::::::::::::::::::::::::::::::::::::
Divulgue os seus eventos e projetos através do e-mail: 
noticias@fe.up.pt
. Saiba mais sobre os nossos serviços no 
site
 dos SICC.