Reading Club :: Meeting historical fiction by Alberto S. Santos
December 4th | 12:45 pm | Auditorium A - INESC-TEC
On December 4th, at 12:45 pm, another edition of FEUP's Reading Club will take place. An encounter with historical fiction will be the subject of the session led by Alberto S. Santos, author of the bestsellers "The Secret of Compostela" and "The Slave of Cordoba".
Abílio Pereira Pacheco, Professor of the Department of Industrial Engineering and Management and researcher of INESC-TEC will be the moderator.
The session will take place at INESC-TEC Auditorium A.

About the author: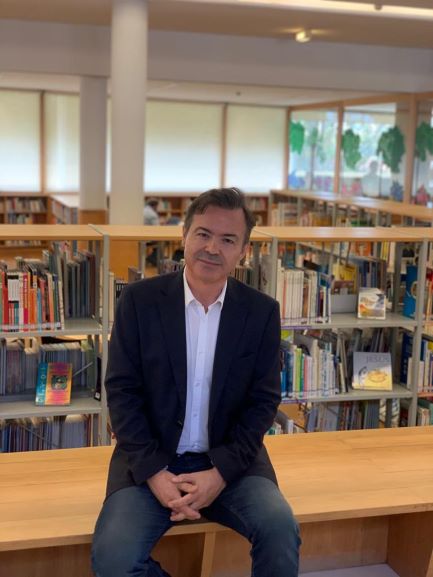 Alberto Santos is a lawyer, local politician and Portuguese author, with works published in Portugal and abroad.
He graduated in Law at the Portuguese Catholic University  in 1990, and since then has divided his life between forensic practice, as a lawyer, his current activity, and the municipal public mission as well as in the business sector of the state. He was Mayor of Penafiel for 3 terms from 2002 to 2013, where he is currently Mayor. He was President of the Tâmega e Sousa Intermunicipal Community and is currently its President of the Intermunicipal Assembly. He chaired the Iberian Association of Ribeirinhos do Douro Municipalities, the Association of Municipalities of Vale do Sousa and the respective Urban Community. He was a member of the Economic and Social Council. He was executive director of APDL - Ports of Douro, Leixões and Viana do Castelo, SA, and non-executive director of SIMDOURO - Saneamento do Grande Porto, SA. He chairs the Scientific Committee of the Romanesque Route and was a mentor of the Literary Writing Festival, going now to the 12th edition, of which he is currently its curator. He is the author of Porto Editora, where he published several novels and short stories: "The Slave of Cordoba" (2008), "The Prophecy of Istanbul" (2011), "The Secret of Compostela" (2013)"," Beyond Baghdad " (2016), "The Art of Hunting Destinations" (2017) and Lovers of Buenos Aires (2019). He also participated in the collection of short stories by Lusophone authors "Roça Lingua" (2014).
We invite all of you to encounter historical fiction written in Portuguese in this session of the Reading Club. Entry to the session is free.
From December 4th onwards, also visit the display on Floor 0 of the Library and get to know the works of the author we have selected for you.
For more information, contact agora@fe.up.pt



 ::::::::::::::::::::::::::::::::::::::::::::::::::::::::::::::::::::::::::: 
Divulgue os seus eventos e projetos através do e-mail: noticias@fe.up.pt. Saiba mais sobre os nossos serviços no site dos SICC.