Notícias
Aula aberta com Inês Moreira | Performing Building Sites, Curating In/On/Through Space
16 de maio, às 16h30
AULA ABERTA COM INÊS MOREIRA 16 DE MAIO, ÀS 16H30 HORAS | AUDITÓRIO DO PAVILHÃO SUL "PERFORMING BUILDING SITES, CURATING IN/ON/THROUGH SPACE" Organização: Doutoramento em Arte e Design Entrada livre.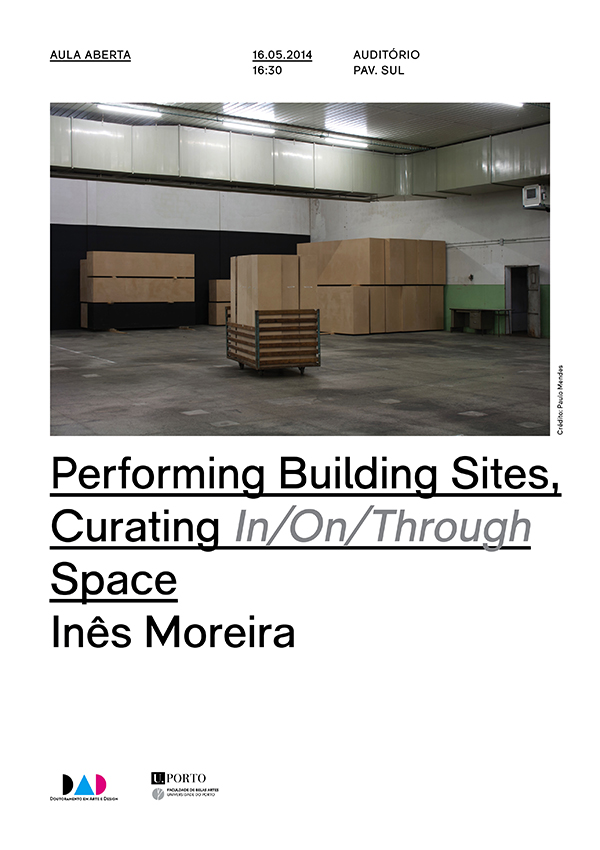 ABSTRACT: Performing Building Sites is the formulation of one of many possible critical strategies for curating. Performing Building Sites are approached as subject, site, and/or metaphor, proposing an understanding of architecture and construction as processual and hybrid fields of material and spatial practice. The project´s aim is to explore methods for curatorial analysis and intervention on space, spanning from theoretical to practice oriented approaches. The Thesis is developed as both an academic research and as a curatorial project, extending the new research field of Curatorial Knowledge. The curator is proposed as a field practitioner, studying and intervening in existing spaces, and, sometimes, creating space. Central to this argument are theories and empirical knowing acquired through field work. Situating the curator in space, producing research on spaces, suggests an implicated position for curating, and researching, in/on/through space. The academic research closely articulates with questions from a personal body of work developed by the author along a decade as an architect/researcher/curator. The images accompanying the study are (mostly) originals generated from field work by the author and partners. Mostly set for curators, researchers and other spatial practitioners. KEY WORDS: curatorial studies, curating, visual cultures, curating architecture, curatorial/knowledge
Biografia
: Inês Moreira é Doutora em Curatorial Knowledge - University of London/Goldsmiths College, 2013; Mestre em Arquitectura e Cultura Urbana (Master Metropolis) - Universitat Politecnica da Catalunya/Centre de Cultura Contemporánea de Barcelona, 2003; e Arquitecta - Faculdade Arquitectura U.Porto, 2001. Foi bolseira da Fundação para a Ciência e a Tecnologia (Mestrado, posteriormente Doutoramento). Foi programadora e curadora de Guimarães 2012, Capital Europeia da Cultura/Fundação Cidade de Guimarães; coordenadora do Laboratório do Instituto das Artes/Ministério da Cultura. É curadora, investigadora e colabora com diversas instituições culturais na Europa.