Notícias
Call for applications: Erasmus+ Training Programme | Faculty of Architecture - University of Porto (FAUP)
Open for applications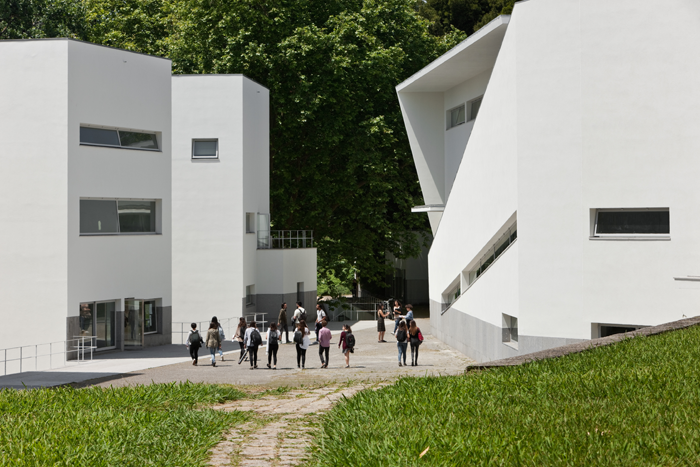 FAUP © Luís Ferreira Alves


1 – Call purpose and recipients
The traineeship positions described in this call are addressed to last year undergraduate, master students and recent graduates of foreign universities, participating in the Erasmus Charter for Higher Education (ECHE), willing to test their interest in an international environment programme and to develop valuable soft skills and gain experience in a complex and stimulating work environment that may help him/her in a future career.
To this aim, the programme allows students to carry‐out a stimulating traineeship at the Faculty of Architecture - University of Porto (FAUP), one of the leading European Schools of Architecture, under the supervision of an expert Tutor and in collaboration with a team of qualified specialists.
Selected candidates will experience a full‐immersion in an international and dynamic environment. FAUP will benefit from the enthusiasm, motivation, skills and different perspectives that new graduates bring. The project aims at selecting the most promising young professionals, willing to experience a demanding but enriching training in a real‐life context.
Students will assist in the organization of major international events and cooperate in incoming student mobility management.
2 – Definition of traineeship positions offered in the framework of the call
The traineeships as described in this call will take place in the framework of the Erasmus+ program, therefore candidates must submit an application following the rules indicated at 3 and, at the same time, they must request the status of Erasmus+ trainees to their home University, indicating FAUP as host institution.
FAUP will offer to selected candidates, for the entire period of their traineeship:
‐ Free access to FAUP sites;
‐ Free access to FAUP library and events
‐ Professional training program,
The traineeship positions are for International Events and International Cooperation Management and administration.
3 – Requisites for participation
In order to be eligible, applications must be submitted by students who:
‐ Are enrolled in the last year of a master or undergraduate programs, in line with those indicated at 4., at European higher education institutes participating in Erasmus + Programme (owners of an ECHE);
‐ Are entitled to apply for an Erasmus+ traineeship at their home University, valid for the entire duration of the internship they intend to participate in;
‐ Have knowledge of Portuguese and are fluent in English. Knowledge of other languages is considered an advantage (https://www.coe.int/en/web/commoneuropean‐framework‐reference‐ languages/home).
4 – Candidate Profile and Selection Criteria
Candidates from any relevant discipline may apply, preferably from Languages and International Relations, Event Management, Public Relations, Communications Studies, or similar, interested in international cooperation, international events, management and administration.
Candidates should be mature, responsible, organized, able to work on his/her own and have good computer skills (Word, Excel, Access, PowerPoint).
Flexibility in approach to work and capability of working in an international environment are an asset.
Should you wish to apply, please send us your Resume/CV to
mobile@arq.up.pt
.
6 – Duration
The traineeships may last from five to twelve months.
7‐ Conditions

Trainees will not be remunerated.
Candidates should contact their home institution to apply for Erasmus+ funding. FAUP will help
with the necessary documents from our part.
FAUP | CALL FOR APPLICATIONS: ERASMUS+ TRAINING PROGRAMME
(PDF)
For further information, please contact:
Faculty of Architecture - University of Porto (FAUP)
International Cooperation and Academic Affairs Office
mobile@arq.up.pt
phone: +351 220425424
www.fa.up.pt