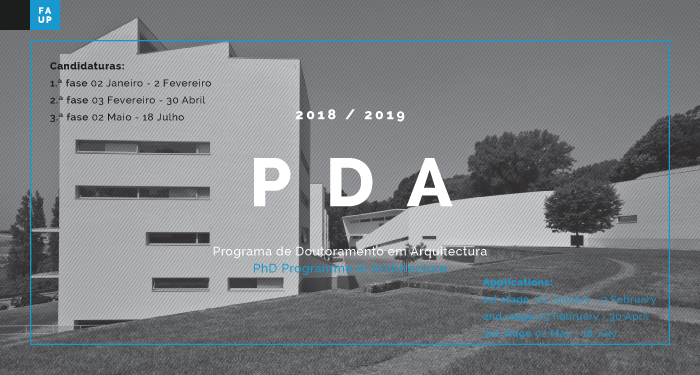 The pda, PhD Program in Architecture at the Faculty of Architecture of the University of Porto, aims at ensuring a qualified postgraduate training where the questions of space and representation are articulated with the exercise of criticism and theoretical thought, substantiating a rigorous and acknowledged understanding of thearchitectonical project.

The pda is structured in Study Profiles, whose offer is made annually, and there is the intention of circumscribing to different fields of study: Project for the Housing Space and Ways of Inhabiting; Architecture: Theory, Project, History; Dynamics and Urban Forms; Architectonic Patrimony.

The PhD Course, which takes place during the first year of the Program with the attribution of a specific diploma, comprises curricular units from the architecture and urbanism scopes, with an offer pondered with other subjects from artistic and cultural studies, from politics and sociology, from science and mathematics, from philosophy and history or from drawing and contemporary criticism. This range of units contributes not only to the definition of a multidisciplinary ground to support the preparation of the Doctoral Dissertation, but also to an enriching contact with teachers from other contexts and bearers of other research interests.


Contacts:

International and Academic Services - Postgraduate Studies | +351 22 605 71 00 |
pos.graduacao@arq.up.pt
| site:
pda.arq.up.pt