Installation in the Library | mies van der rohe: architecture is not a martini cocktail | MIES.5Oyears.PORTO
December 2019 - February 2020
Matter: white conferences evokes the 5Oth anniversary, of one of our main references´ death, Ludwig Mies van der Rohe (1886-1969), through a set of actions that discuss his line of thought and body of work, beginning mid-December 2019, extending up to March 2020.
The program opens with an installation in FAUP´s library, entitled "Architecture is not a Martini cocktail", with reference to Francesco dal Co's editorial, in
Casabella
, nº 741, February 2006, which recovers the interview given by Mies van der Rohe to Peter Carter, published in the summer issue of 1964, in the London magazine "20th Century".
The installation, structured in two moments, presents an exhibit display informed by journals from the library's own archive in open dialogue with other key publications and, in the vault, the screening of the film entitled
Model 1:1 Krefeld
, by Maarten Vanden Abeele about
Robbrecht en Daem architecten
's project that evokes the Mies van der Rohe Golf Clubhouse for Krefeld (1930), never built. [courtesy of: Robbrecht en Daem architecten.]
This installation integrates the research line AdC_ "Identity and Transference", in the project "Dialogues and Affinities: design practice: drawn and written", with the collaboration of Ricardo Leitão.
Organization: 
José Miguel Rodrigues
 | 
Helder Casal Ribeiro
 | Pedro Borges de Araújo
Graphic Design: Marta Ramos | Audio/video: rodrigo andrade e sousa
Support: FAUP | 
Jofebar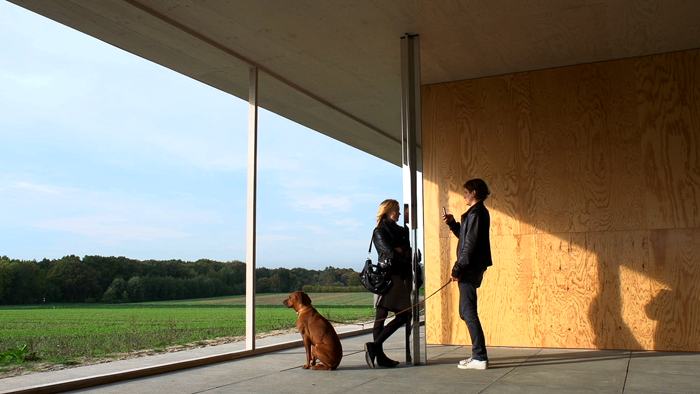 film stills credits: Model 1:1, Krefeld, Robbrecht en Daem architecten, film still by Maarten Vanden Abeele, 2013.