About U.Porto
U.Porto - Buildings with history
Building in Largo do Professor Abel Salazar
The building that houses the Institute of Biomedical Sciences Abel Salazar which once housed the Medical-Surgical School of Porto and later the Faculty of Medicine was built in the former Largo da Escola Médica, now Largo do Professor Abel Salazar, adjoining the extinct Nossa Senhora do Carmo Convent (Barefoot Carmelites).
Designed by architects Rogério dos Santos Azevedo (1898-1983) and Baltazar Castro (1891-1967) to address the limited facilities of the Faculty of Medicine of the University of Porto, it inaugurated in 1935. It combines the Neo-Classical style in its façade with "Art Déco" inside the building.
The Faculty of Medicine occupied the building until 1960, the year it was transferred to the current facilities in S. João Hospital. In 1975, when the ICBAS was established, the building was occupied by various services and departments of the Faculty of Arts and the Faculty of Sciences, as well as other university services.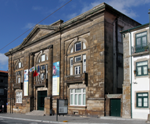 The sharing of facilities continued for several years, during which several improvement works took place, in particular in 1992 after the fire that broke out in the Grand Hall.
More than three decades after it was established, the ICBAS continues to occupy this historical building. Soon, however, it will be relocated to new facilities built from scratch on land previously occupied by the Rectory of the U.Porto, in Rua D. Manuel II, which were designed by architect José Manuel Soares.